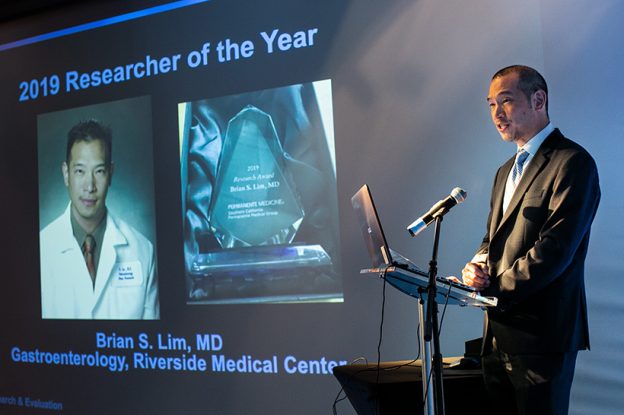 Dr. Brian Lim named SCPMG Physician Researcher of the Year
Physicians and researchers gathered for a celebratory dinner in Pasadena on Thursday, December 12, to recognize Southern California Permanente Medical Group physician researchers. Capping off the evening was the presentation of the 2019 Physician Researcher of the Year award, which went to Brian Lim, ...
Featured News
Cancer Clinical Trials office opens in Ontario

The Kaiser Permanente Southern California Cancer Clinical Trials Access Program (CCTAP) opened a new office at the Kaiser Permanente Ontario Medical Center with a ribbon-cutting ceremony on Tuesday, ...

Severe morning sickness associated with higher risk of autism

Children whose mothers had hyperemesis gravidarum — a severe form of a morning sickness — during pregnancy were 53% more likely to be diagnosed with autism spectrum disorder, according to Kaiser ...

Five questions for Dr. Claudia Nau

Investigator Claudia Nau, PhD, of the Kaiser Permanente Southern California Department of Research & Evaluation, recently published a commentary on the role of predictive models in supporting a ...