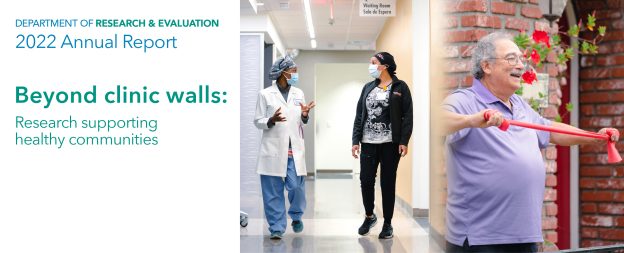 Unveiling the Impact: Kaiser Permanente's Annual Report 2022
As we journeyed through 2022, the shadow of COVID-19 continued to loom large, with new variants creating new challenges. Yet, in the face of this, Kaiser Permanente Southern California remained steadfast in its commitment to research and discovery, both in researching COVID-19, but also addressing other health burdens faced by our Kaiser Permanente members including cancer and cardiovascular disease as well as the environmental causes of illness, firearms injury prevention, and racial disparities in health.
In the R&E 2022 Annual Report, "Beyond clinic walls: Research supporting healthy communities," we share these inspiring stories that exemplify the spectrum of our research's impact outside the clinic walls. A courageous breast cancer trial participant opens her heart, sharing the altruistic motivations driving her involvement. Our clinicians showcase an innovative program, bringing cardiac rehabilitation right into people's homes. Researchers who endeavor to enhance the overall well-being of cancer patients. Our scientists embarked on groundbreaking studies, shedding light on vaccine effectiveness, paving the way for vital decisions about boosters, and extending our knowledge about vulnerable populations. These stories embody the human essence behind our research efforts and the transformative effects on health care.
Here are some of the stories you can find:
In 2022, the dedication of our researchers yielded remarkable results. Kaiser Permanente Southern California researchers authored over 650 journal articles, marking our highest annual publication count yet. This milestone encouraged us to share our research accomplishments with the world, making our publications list readily accessible online. Our initiatives extended far beyond our boundaries, empowering global health communities with knowledge that transformed clinical practices and shaped health guidelines. You will also find within our Annual Report a number of other accomplishments and milestones.
We invite you to explore the stories of resilience, hope, and progress that define our journey towards a healthier future.