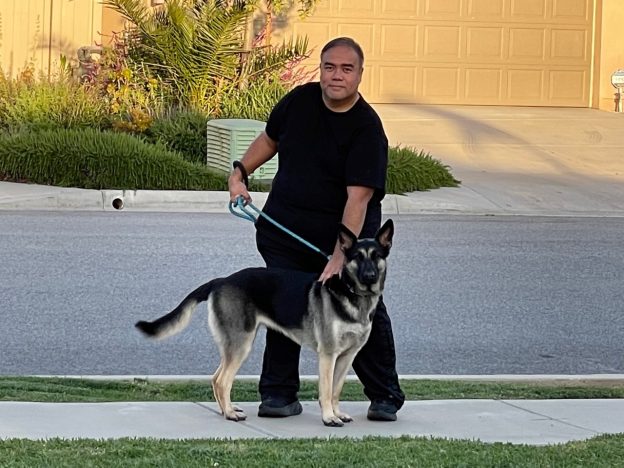 Five questions for … Dr. Michael Aragones
Kaiser Permanente Southern California has 2 Regional Reference Laboratories, which make up a sophisticated clinical laboratory management system that interfaces with medical centers and medical offices throughout the region. Michael Aragones, MD, is a Research & Evaluation research lab project manager at the Sherman Way and Chino Hills regional laboratories, which share responsibility for testing and analyzing approximately 60,000 samples a day collected at clinical laboratories at Kaiser Permanente medical centers and medical offices across Southern California. Kaiser Permanente's research scientists and clinician researchers utilize existing research orders within Kaiser Permanente HealthConnect® for laboratory samples that can be used for research purposes. So, we asked Dr. Aragones a few questions …
Tell us about the journey that brought you to your current position.
Growing up, I observed my dad's work as a physician and liked how well he interacted with his patients. After high school, my friends were going into business management, and I was torn between business or medicine. My mom offered advice that I never forgot. A doctor can be a businessman, but a businessman cannot be a doctor. I pursued medicine and was good at it, but I tended to get overly affected whenever my patients took a turn for the worse. I also did not enjoy the hospital environment.
Wrestling with this, I ended up working in the laboratory at Quest and eventually Kaiser Permanente. I joined the Specimen Processing and Client Services team at the Sherman Way lab in North Hollywood. I loved the quiet work serving members behind the scenes and ended up leading projects for my manager, Robert Rabot. The projects allowed me to work with different regional lab and medical center testing teams. He encouraged me to pursue the lab project manager opening in Research & Evaluation. I was fortunate enough to join the Research Operations team, and later pursued a black belt in Lean Six Sigma. Every new lab study we design and operationalize reflects Lean Six Sigma's principles of continuous improvement.
What is the most difficult thing, and the best thing, about being a lab manager?
The most difficult thing is that on any given day, problems might flare up for multiple studies. We must quickly address these to prevent them from escalating and affecting multiple samples. There are days when I troubleshoot up to 5 studies and it can get crazy.
The best thing is being able to work with different research and clinical lab colleagues as we bring new studies to life. The work is very challenging as the needs of the studies are so diverse. Every new study we operationalize gives us a working model for a future study.
Tell us about how things changed for you during the COVID-19 pandemic, and how that has changed lab work in general moving forward.
COVID-19 increased the lab workload by more than 300%. I used to assess about 4 to 5 lab study proposals per year. When the pandemic hit, I had 21 proposals to evaluate that year. I have a very small team. A large-scale study for us would be about 10,000 samples a year. During this time, we ended up working on the largest single study for the Department of Research & Evaluation and we partnered with the department's Division of Epidemiologic Research to make it work. For the COVID-19 Sequencing study, I worked with an outstanding group of scientists, project managers, research associates, programmers, and analysts processing and analyzing over 156,000 samples a year to study COVID-19 variants prevalent throughout Kaiser Permanente Southern California. The lab has so much to offer our scientists. I honestly believe we have only scratched the surface of what our research lab can achieve with our lab studies.
What do you do in the lab that could translate into living a better life outside of the lab for you and others?
We are building a system for research that is integrated with the clinical lab. This enables our scientists and clinician investigators to quickly launch studies involving biospecimens. We are tapping into the existing clinical lab infrastructure to derive massive savings in cost, resources, and time for our research studies. We created generic research Kaiser Permanente HealthConnect®  orders that will allow for research sample collection throughout the entire Southern California region to extend our geographic reach. The more integrated research is with the clinical system, the easier it will be to engage in timely and meaningful research that translates into better care for our members. For example, the saliva kit currently used for COVID testing in KPSC came out of a joint study between the research and clinical labs that was conducted in emergency departments of 7 KPSC service areas.
Currently, we are working on studies that seek to understand long-term effects of COVID-19, antimicrobial resistance, azole antibiotic resistance, vaccine effectiveness for pneumococcal disease and invasive enteropathogens. We also assist on studies that seek to use food as a therapeutic to improve results for blood sugar, lipid, and liver function tests. Every study we work on benefits a certain subset or population of our members and can potentially improve the quality of their lives.
What do you enjoy doing when you have time off from work?
When I get stressed out, I like singing along to some of my favorite songs. I enjoy listening to sermons, motivational speeches, stand-up comedy, or music while doing household chores. I also love spending time with my dogs Dana (Labrador retriever), Chloe (German Shepherd) and Gunner (Belgian Malinois). They always manage to make me laugh out loud with their antics.
Photo: Dr. Aragones with his German Shepherd Chloe.