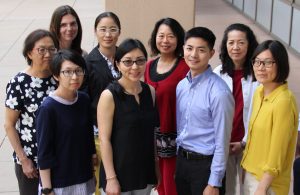 If you are doing research at a Kaiser Permanente Southern California medical center and need help with analysis or choosing a statistical method for your research project, the Regional Research Statistical Support team is ready to assist you.
The team provides a variety of services that can support you in your research, including:
Statistical consultation, encompassing feasibility studies, study designs, outlining appropriate statistical approaches for study protocols, and collaborating on grant writing and applications
Data preparation, e.g., obtaining data based on IRB-approved protocols or providing high-level summary statistics through consultation
Statistical analysis and interpretation, including analyzing data, interpreting results, assisting in submitting and presenting abstracts, and preparing manuscripts for publication
Education and training on statistical methods
Our mission
The mission of the Regional Research Statistical Support team is to provide the highest quality of support for data and analysis and to collaborate primarily with Kaiser Permanente Southern California medical center-based investigators on research projects in areas including study design, analysis, manuscript and grant proposals.
"We have collaborated with the Regional Research Statistical Support team's expert leadership to publish more than a dozen novel administrative outcome studies. I have been very satisfied with the great service they consistently provide for us."
Robert S. Zeiger, MD, PhD
Senior Investigator
San Diego Allergy Research Group
For more information about our services, contact:
Jiaxiao Shi, PhD
Jiaxiao.M.Shi@kp.org
626-564-3710
Conducting Research
Investigators who may use our services 
Each year, the Regional Research Statistical Support team assists scores of researchers located at medical centers throughout Kaiser Permanente Southern California. These include investigators who:
Conduct research consistently
Do research projects only occasionally
Are required to complete research projects as part of their training (residents, fellows, and pharmacists)
Projects supported 
The team supports 3 types of research projects:
Feasibility studies and consultations to help determine whether sufficient, eligible members can be included/recruited for large studies and to identify efficient and appropriate approaches for answering research questions
Non-funded studies, including small research projects and operational research initiatives to address clinical and operational questions
Funded studies, including those funded by the Regional Research Committee as well as externally funded projects
Our support for investigators includes several valuable tools and resources.
Review Process
There are 2 steps in the Regional Research Statistical Support operations process.