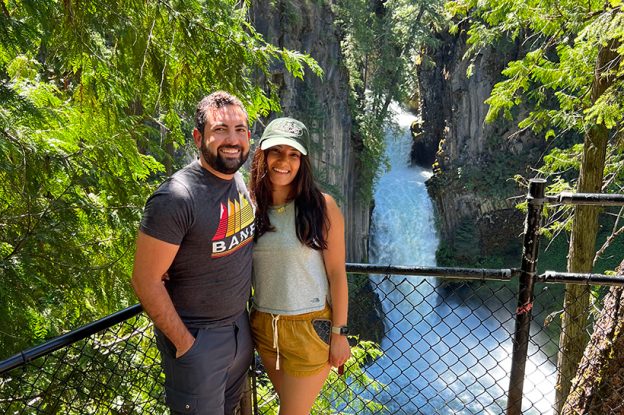 Five questions for … Dr. Nehaa Khadka
Nehaa Khadka, PhD, MPH, is a maternal/child health epidemiologist and postdoctoral research fellow in the Division of Epidemiologic Research of the Department of Research & Evaluation. Her research interests include perinatal epidemiology, reproductive health, and health disparities. She began her fellowship in June 2023. While pursuing her doctorate degree at the UCLA Fielding School of Public Health, Dr. Khadka studied HIV prevention for women in South Africa. In addition to her research on HIV prevention, Dr. Khadka has assessed risk factors for preterm birth using data from electronic health records. Previously, she supported several studies on vaccine safety and effectiveness as a research associate at Kaiser Permanente Southern California. She was born in Kathmandu, Nepal, and currently lives in San Francisco.
What inspired you to pursue research?

My research journey started when I was a student volunteer on a global health project at UC Berkeley. Our team provided early childhood nutrition and oral health education toolkits for local nonprofits in Mumbai, India, and Sindhupalchowk, Nepal. Through this project, I was exposed to behavioral research and learned how qualitative and quantitative data can guide interventions.
I am inspired by the ability of research to describe and analyze diseases and conditions, their associated risk factors, and to impact the health and well-being of populations. Therefore, I decided to dive in deeper and obtained additional training in research methods through my degree in epidemiology. During this time, I worked on research evaluating PrEP for HIV prevention among pregnant and postpartum women attending antenatal clinics in Cape Town, South Africa. This research guided several national guidelines around PrEP for pregnant/postpartum populations in South Africa and surrounding countries.
I continue to be driven by perinatal health research and I am motivated to address key gaps in literature and to improve health of people during/after pregnancy and their infants through our findings locally.
Why did you come to the Department of Research & Evaluation to pursue your postdoctoral training?

Research & Evaluation has a collaborative approach to research, with a dynamic team of epidemiologists, clinician specialists, biostatisticians, programmers, and a dedicated support staff working together on every research project. Team-based science was attractive to me as it contributes to better research. The department also has access to a comprehensive longitudinal database of electronic health records that is representative of the diversity of California's population. This provides a means for conducing impactful research in perinatal health. This combined with highly motivated colleagues made me excited to stay and continue my post-doctoral training here.
How do you think starting a new position in the midst of a global pandemic has changed your experience?

I started and completed my doctoral training in epidemiology during a global pandemic (September 2020!) and started on this new postdoc role remotely. It has its pros and cons. Due to technology, I was able to get my degree despite the pandemic and contributed to epidemiologic research without compromising my health or the health of those around me. The pandemic also allowed us all to connect remotely and entirely removed the long commutes to work. However, I do miss the casual interactions with colleagues that happen naturally.
What research are you currently working on that you are most excited about?

I am most excited about our current work on the development of a pregnancy registry using data from electronic health records. Establishing a pregnancy registry system allows us to harmonize data definitions and will provide some standards for evaluating specific health conditions and outcomes or exposures before, during, and after pregnancy. This project is a collaborative effort with clinicians, perinatal researchers, programmers, and health informatics team. I look forward to having readily available clean data on so many exposures and disease conditions. This project will greatly impact how clinicians and researchers do perinatal health research at Research & Evaluation.
What do you like to do in your spare time?

I enjoy long walks by the water or in forests, playing tennis, trying out new recipes, dispersed camping, and spending lots of time with friends and family.
Photo: Dr. Khadka and her partner Ryan Assaf in Bend, Oregon.