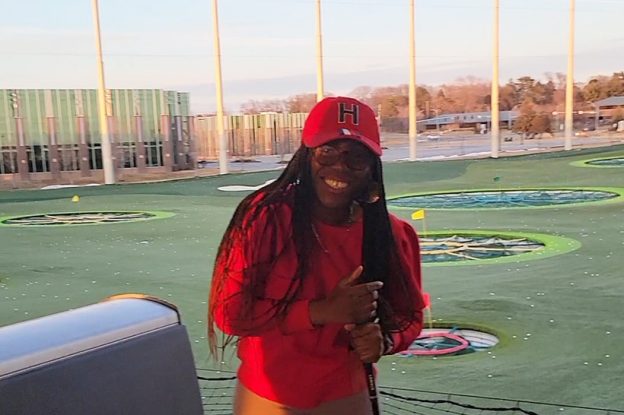 Five questions for … Dr. Titilola Labisi
Titilola Labisi, PhD, MHA, MPH, is a public health researcher and a postdoctoral research fellow in the Division of Behavioral Research of the Department of Research & Evaluation. She joined the department in 2022. Her research interests include community-engaged research, health disparities, and health behaviors related to sex, diet, and physical activity. She previously worked as predoctoral research fellow at the University of Nebraska Medical Center Specialty Care Center, an HIV surveillance coordinator at the Missouri State Department of Health and Senior Services, and an HIV services linkage-to-care coordinator at the New Mexico State Department of Health.
What inspired you to pursue research?
Despite having a strong passion for community service and intellectual curiosity, I attended college to become a microbiologist and understand the fundamentals of living things. After achieving my goal of becoming a microbiologist, I realized the daily routine of being by myself in the laboratory was not for me, and seeing the rates of positive diagnoses of preventable diseases in the laboratory was discouraging. 
Further, I knew wanted to affect lives and be involved in the communities mostly affected by preventable diseases, so I opted for public health. Being a member of such a community, I found that a research focus on health disparities came naturally. 
Why did you come to the Department of Research & Evaluation to pursue your postdoctoral training?
I chose Kaiser Permanente for 3 main reasons. First, one of my mentors, whose work I admired and who facilitated my research trajectory, was a former research scientist at Kaiser Permanente. So, I knew I would get a rigorous post-doctoral training experience and get to work with outstanding researchers. Second, as a mixed-methods researcher who wanted to hone her quantitative skills, I knew there were unlimited opportunities to achieve that with Kaiser Permanente's large database, mentorship, and opportunity to collaborate with the research scientists. Third, I have graduate-level degrees in public health and health administration. I wanted an organization where my business and research interests intersect. Therefore, Kaiser Permanente was the best fit for my professional goals and interests. I am glad I chose Kaiser Permanente!
How do you think starting a new position in the midst of a global pandemic has changed your experience?
The COVID-19 pandemic started while I was completing my doctoral training, and I think it gave me the opportunity to serve my community more and to better appreciate public health. I was looking forward to making more impact during and beyond the pandemic when I accepted my offer. In my current position here at Kaiser Permanente, I have had the opportunity to investigate the impact of the pandemic on children and their families. However, being a community-engaged researcher, I miss some physical involvement with the community, but as things return to normal, I hope to see more of that.
What research are you currently working on that you are most excited about?
This is a little tough because I am involved in multiple projects, and I am grateful to my mentors here at Kaiser Permanente for the opportunity. What is common among these projects is that they focus on reducing diet-related diseases, including obesity and diabetes. 
For example, we are training pediatricians on how to work with children and families to manage and reduce the risk of childhood obesity. The benefit of this study is bi-directional; it improves patient-provider relationships and health outcomes. Pediatricians improve their relationships and communication skills with their patients, while families can overcome barriers to optimal body weight and healthy diets. 
Another interesting study I am working on is in collaboration with restaurants to reduce excess food portions served at restaurants. In this study, we hope to create a food environment where food served at restaurants meet the recommended nutritional guidelines and help customers reduce excess calorie intake, which is a major risk factor for diet-related diseases. 
What do you like to do in your spare time?
I love outdoor activities, and you will always find me outdoors whenever I am free! Particularly, I enjoy exploring new places, hiking, cycling, and other outdoor sports. Another thing I enjoy doing during my spare time is playing board games. I will not turn down a request for a game of Scrabble!