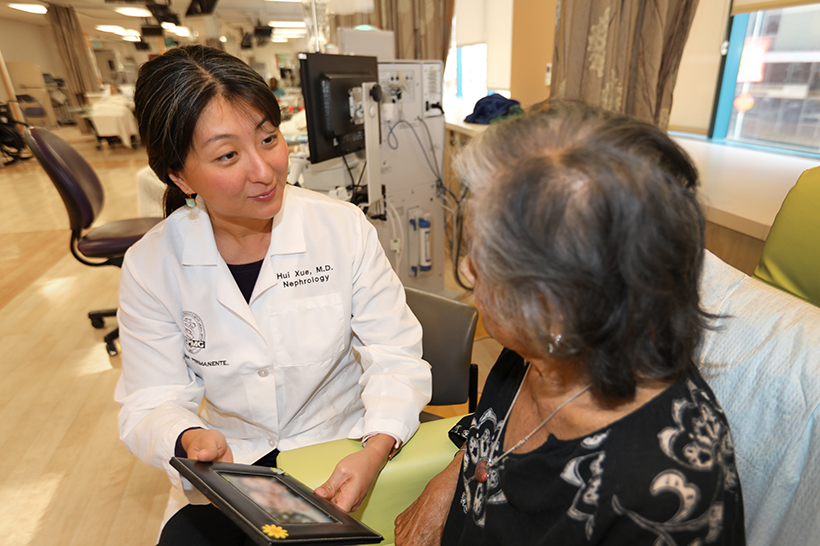 End-of-life: Researchers seek to learn needs of sickest patients
Researchers at the Department of Research & Evaluation are working to make the final life transitions better for patients and their families. Using analytical analysis, interviews, data queries and more, they aim to find out what people want in their final months and days, and how to improve care ...
Featured News
Grant funds work to predict early-stage pancreatic cancer

The National Institutes of Health has awarded Kaiser Permanente a grant to find a way to predict early-stage pancreatic cancer. Leading the project is principal investigator Bechien Wu, MD, MPH, a clinician ...

Research: RSV infection can be deadlier than flu in adults

In many ways, the initial symptoms of influenza and respiratory syncytial virus are indistinguishable. But, research published in Clinical Infectious Diseases last month showed that RSV infection may ...

Mom's diabetes could influence child's risk of autism or ADHD

Since publishing in JAMA about strong associations between a mother's diabetes and autism in 2015, Anny Xiang, PhD, a researcher with the Kaiser Permanente Southern California Department of Research ...
March 30, 2018

Annette L. Adams, PhD, MPH, is committed to helping women avoid bone injuries that limit their mobility, and in some cases, end their lives. During her eight years as a research scientist at the Kaiser Permanente Department of Research & Evaluation, in Pasadena, California, Dr. Adams's interest in osteoporosis has led her to investigate many aspects ...

Read more...

February 12, 2018

PASADENA, Calif. — People who are African-American, American Indian/native Alaskan, Asian, or native Hawaiian and other Pacific Islanders have a significantly greater chance of developing hypertension than people who are white or Hispanic who are in the same weight category or live in neighborhoods with similar education levels. The Kaiser Permanente study, which included more than ...

Read more...

January 12, 2018

PASADENA, Calif. — Nearly one-quarter of children and teens who had their blood pressure screened at a primary care appointment showed a reading in the hypertensive range, but less than half of those readings could be confirmed after the blood pressure was repeated, according to a new Kaiser Permanente study released today in The Journal ...

Read more...