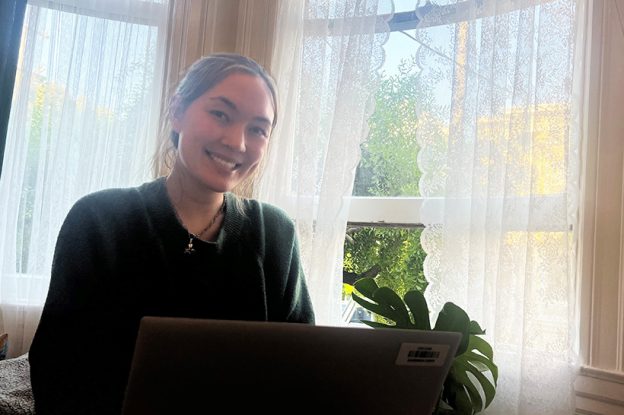 Interns make incredible contributions to research
When Cheyne Hoke began in the Department of Research & Evaluation's internship program in June 2023, she was a University of California, Berkeley MPH candidate focused on epidemiology and biostatistics. As an intern she spent her summer months working remotely with Kaiser Permanente researchers on what some might consider a "geeky" endeavor: SAS EG extracting, filtering, and data cleaning for a study on heart failure patients. (Translation: That's basically the preliminary steps necessary to make data-driven assessments through mathematical analysis.)
Was she bored? Not at all. The experience actually solidified her love of statistical research and gave her career the well-grounded direction she had always wanted.
"I was never sure if I was more epidemiology or biostatistics," Hoke said from the San Francisco apartment where she has worked remotely all summer. "This gave me a dose of statistics all day long every day and I loved it. Had I not done this, I would not have figured out who I am."
Hoke is one of 37 people who have benefited from Research & Evaluation's centralized internship program that was first conceived in 2014. The idea all along, though, was also to help the department attract, develop, and retain committed and exceptional staff members, like Hoke.
Internship program was conceived in 2014
"We weren't very well connected to universities back then," explained Deborah Rohm Young, PhD, MBA, the director of the department's Division of Behavioral Research. "But we knew that all the MPH students needed to have an internship, so Yasmina Mohan, MPH, and I created a proposal for an internship program that would highlight our department and the great work we do that is epidemiologically and biostatistically focused, and also provide a pipeline of new team members."
At the time, Mohan, was a research assistant helping Dr. Young and managing one of her studies about adolescent girls. Mohan had previously been an intern herself at Kaiser Permanente's Northern California Division of Research while a student at UC Berkeley.
"The goal was to recruit quality interns," Mohan said. "After we received some operational support, we put out a call and asked scientists if they could use an intern to work on a specific project that would also be able to fund it. The plan required flexibility and negotiation. But at the end of the day, it got approved."
Mohan now is a project manager for the Evidence-Based Medicine Services Unit of Kaiser Permanente Southern California's Department of Clinical Analysis.
"It makes me incredibly happy and proud the work has continued," she said. "I now have an 11-year career and it's thanks to my internship. I am so happy I could help create that opportunity for other people who now have a career at Kaiser Permanente. It is great to be part of that legacy."
First group of interns yielded new employees
The first group of interns started in 2015. Three of those 5 interns continue to work for Kaiser Permanente. One of those is Yi Ren Hu, MS. He was living at home, finishing the first year of his master's program at USC and looking for a summer internship. Pharmaceutical companies kept popping up for him, but his interest was in hospitals and patient care. Then, he saw the internship at Research & Evaluation. He didn't know it was the first year of the program.
"After doing research, I realized Kaiser Permanente was a good company to work for and people stayed for a long time," he said, "And, Research & Evaluation was that specific department I wanted to get into because it was focused on what the exact subjects – statistical analysis and graphical data summary –  I was studying."
Hu excelled in the internship, and was second author on an important study about antibiotic stewardship, which was published in the American Journal of Managed Care. His internship was extended as a part-time position until he graduated the next year. He was then hired for a fulltime position at Research & Evaluation and now works in the consulting and evaluation unit of Clinical Analysis. It's a position where he uses the same set of skills he honed at Research & Evaluation, but turns around data to clinical practice at an even faster rate.
"During the early days of the COVID pandemic, there was a lot of discussion around how COVID and its outcomes differed among people of differing ages and ethnicities. Everything was so fast paced. Clinicians needed data on the front line to immediately back up our approach. And that's what we did," Hu said. "We just work to make sure we are making the best decision for our patients."
He said the job is tremendously fulfilling and he credits being an intern at Research & Evaluation for the opportunities that opened up to him.
"I found my place within an organization, and everything started at that internship level," he said. "I will always appreciate that opportunity at the start of my career."
He recommended other master's students follow in his footsteps.
"Get in the door with an internship program and the exploring just starts there," he said.
Search for interns begins in prior year
This year, Oscar Boado and his team in Research Operations led the intern search. It began with an email in November 2022 to determine interest among scientists. The funding this year came from a general budget rather than specific study budgets, but that can change from year to year. By January 2023, the request for interns was submitted to Kaiser Permanente's University Relations team. By the third week of February the positions were posted.
Then, Boado began getting stacks of resumes each week, which he shared with the appropriate scientists and 4 final selections were made.
"All of our top choices accepted this year," he said proudly.
Meet the 2023 interns
In addition to Hoke, other interns were Danica Anukam, pursuing a doctorate degree in public health in epidemiology at the UCLA Fielding School of Public Health; Esmeralda Marisol Campos, who recently received a master of public health degree in epidemiology and a bachelor of science degree from the University of Maryland, College Park; and Briseyda Mendoza-Aguayo, who is pursuing a master of public health with a concentration on biostatistics and epidemiology. Simultaneously, she is completing a bachelor of science degree in health promotion and disease prevention at USC.
Danica Anukam is working in the Division of Epidemiologic Research with Reina Haque, PhD, MPH, on projects studying the influence of comorbidities on survival disparities in women with metastatic breast cancer. She said she learned about the internship program from Dr. Haque. "Given that Kaiser Permanente has an enriching research environment with a plethora of data sources and access to a very diverse population ,and that Dr. Haque's research interest was in cancer epidemiology, I ultimately decided to apply," she said. "I'm truly grateful."
Esmeralda Marisol Campos is working in the Division of Health Services Research & Implementation with Huong Nguyen, PhD, RN, and Mayra Macias, MS, on a project related to the early detection of cognitive impairment and dementia among older adults. "Being a recent graduate, I was eager to start my career with an organization with the same values and beliefs as I have," she said. "When I saw Kaiser Permanente's internship post, it really aligned with my career aspirations in terms of helping communities, and it was something I really wanted to be part of. I hope that being an intern at the Department of Research & Evaluation broadens my horizon and teaches me fundamental guidelines for what a great public health profession looks like."
Briseyda Mendoza-Aguayo is working in the Division of Epidemiologic Research with Kristi Reynolds, PhD, MPH, and Jeniffer Kim, PhD, MPH, to support the IDH Mega Study, which is evaluating the best approach to diagnosing and managing high blood pressure. "My hope was that through this internship program I can become more exposed to the world of conducting research and also solidify my career interests," she said. "So far, I have learned so much from the IDH Mega Study team. It is great to learn through hands-on experience about research ethics, protocols, patient interactions, data, and so much more! I am very excited to be part of Kaiser Permanente and contribute to their impact on health and well-being."
Cheyne Hoke is working in the Division of Epidemiologic Research with Yi Luo, PhD, on a project looking at heart failure patients with reduced ejection fraction. She said she originally applied because she "aspired to build a career in public health research and was hoping to gain hands-on experience working with data. I want to hone my coding and programming skills and better understand the role that biostatisticians play within large epidemiologic studies."
In early September, Hoke signed a formal offer from Kaiser Permanente for a job as a data reporting and analytics consultant. She said she was deeply grateful for the internship program, and how it has changed the trajectory of her career. "Through this internship, I figured it out who I am. I figured out which area of science was right for me," she said, "And it pushed me to want to stay at Kaiser Permanente."