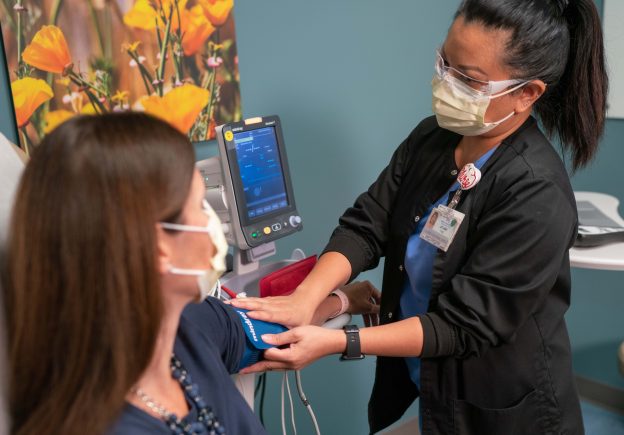 Celebrating our extraordinary nurses: During Nurses Week, all month, and throughout the year
For National Nurses Week (May 6 to 12), Nurses Month, and Year of the Nurse, we celebrate the dedicated nurses who work in the Kaiser Permanente Southern California Department of Research & Evaluation.
Nurses are a vital part of our research program. Most support clinical trials, where their relationship-building skills play an important part in helping us engage and connect with patients during their clinical trial journey. Research nurses also provide essential clinical expertise to our epidemiologic, behavioral, and health services research studies, further highlighting how hands-on experience can help to highlight nuances of pragmatic, observational, and other types of research outside of typical clinical trials.
In this article, we are highlighting the stories of 3 of these skilled and inspiring professionals. (They will also be featured in a month-long social media campaign celebrating Kaiser Permanente Southern California's nurses. Follow kpscal on Instagram and KPScalResearch on Twitter to see their profiles when they show up.)
"Cancer doesn't care that a worldwide pandemic is going on," said Alicia Driscoll, RN, an oncology research nurse at the Kaiser Permanente Woodland Hills Medical Center, when describing her work with cancer patients.
Caring for a close friend with non-Hodgkin's lymphoma changed the life of Samantha Gliniak, RN, BSN, OCN. Today, her work as an oncology research nurse with Kaiser Permanente in Irvine brings her deep personal satisfaction.
Working as an oncology research nurse at Baldwin Park Medical Center enables Terry Reyna, RN, MSN, OCN, to combine 2 great passions of her life: A steadfast dedication to helping others and lifelong commitment to education that she has shared with her 4 children.
We wish to thank Alicia, Sam, Terry, and all of our wonderful nurses who support the science that helps advance care for our members and communities