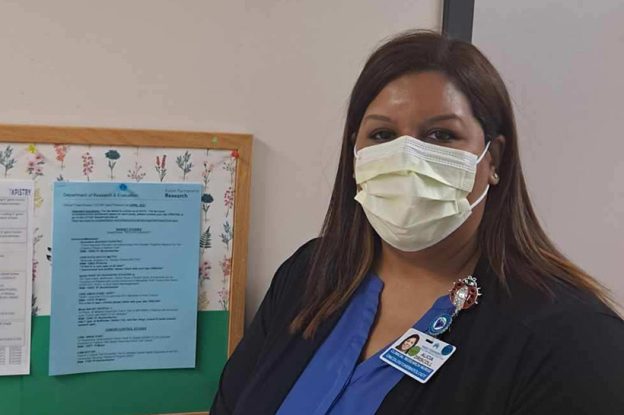 "Cancer doesn't care that a worldwide pandemic is going on": Alicia Driscoll, RN
Research nurse flexes to support cancer patients during pandemic
Alicia Driscoll, RN, has been a nurse at Kaiser Permanente for almost 19 years. She credits her mother for her rewarding career. "My mom had wanted to be a nurse but was afraid of blood," Alicia said. Her mother didn't tell her of her own dream until after Alicia graduated.
"I worked at the coroner's office during nursing school, so I wasn't really bothered by blood," she said. As the autopsy assistant, Alicia removed all the human organs for the coroner. "I know what the effects of disease look like. I know what cancer looks like. That was the start of my career."
Now a research oncology nurse at Kaiser Permanente Woodland Hills Medical Center, Alicia says she loves helping people. "In oncology, we're meeting people at one of the worst times in their lives, and hopefully giving them more time and quality of life," she said.
Alicia has been praised for her wealth of clinical trials knowledge and skills and was recently awarded a Kaiser Permanente Southern California regional GEM (Going the Extra Mile) Award. When the COVID-19 pandemic hit in early 2020, her flexibility and dedication are what made her star shine even brighter.
"Cancer doesn't care that a worldwide pandemic is going on," Alicia said of the challenges of caring for patients during the pandemic's early months. "So, we moved the entire oncology department to a separate building—over a weekend—to protect our patients." Amid all the changes, the department was able to continue providing care and conducting research with little interruption.
Alicia's long career at Kaiser Permanente has been rewarding. "I like all of the prevention support that Kaiser Permanente provides, and how we look at patients as a whole, not just at their disease," she said. "I'm proud of that and I'm lucky I have a job where—100%—I'm helping people."