The rise of in-home cardiac rehabilitation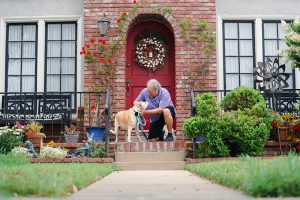 If someone had a heart attack today, they might be in and out of the hospital in as little as 24 hours.
But there's no rushing the several weeks needed for physical and emotional recovery — doing so could increase the risk of heart problems later on.
To reduce that risk, Kaiser Permanente and other providers have traditionally offered in-person rehabilitation programs to anyone with a heart attack or other serious heart issue or surgery. Three times per week for 12 weeks, patients attend exercise sessions under nurse supervision to ensure the best possible recovery.
While highly effective, however, such programs are not practical for most people.
Now, an innovative in-home program has tripled the percentage of Kaiser Permanente Southern California members who participate in cardiac rehabilitation. And research shows that it can be just as effective as center-based rehabilitation.
"In-home rehab has been overwhelmingly successful," said Columbus Batiste, MD, regional chief of Cardiology and regional medical director of the Kaiser Permanente Southern California Home-Based Cardiac Rehabilitation Program. "Patients have told us how much the program motivates them, and our data show that they are less likely to be readmitted to the hospital."
A wearable solution
The story of in-home cardiac rehabilitation at Kaiser Permanente began more than 5 years ago when Dr. Batiste treated a young mother for a heart attack at the Kaiser Permanente Riverside Medical Center.
"She was someone we'd now call a frontline worker who was unable to make it to her rehab appointments," Dr. Batiste said. "Despite our efforts, she eventually passed away. It made us wonder: Are we doing everything possible to provide care to our members?"
At first, Dr. Batiste was able to significantly boost cardiac rehabilitation enrollment at Riverside by launching an exercise program that patients could do at home with telephone check-ins from clinicians. However, many patients never completed the program after enrolling.
"That's when Columbus came to me and asked if there was an opportunity to work with the Innovation Studio to dramatically change the way we do cardiac rehab," said Tad Funahashi, MD, who is the chief innovation officer for Kaiser Permanente Southern California.
The team realized that tracking patients' physical activity using a smartwatch could be the key to increasing participation in-home cardiac rehabilitation. They developed a smartwatch- based program that mimics the experience of being monitored in real time at a center, while also addressing the unique challenges of rehabilitating at home.
After a successful pilot with 36 Riverside patients, the team officially launched the program across 12 Kaiser Permanente Southern California medical centers in April 2018.
"This project was a truly meaningful harmony between a man with a passion to help his patients and a department that was able to examine the underlying challenges and bring together the resources and talent to find a solution," Dr. Funahashi said.
Rehab that's personal and proven
Prior to the launch of an in-home option, only about 20% of Kaiser Permanente Southern California members who were referred for cardiac rehabilitation actually enrolled. Today, enrollment has reached 65%, and more than 15,000 patients have successfully completed the in-home program, which is free to members.
In August 2022, in the journal JAMA Network Open,* the team published data from more than 2,500 demographically diverse patients showing that, over a 12-month period, those who did in-home rehabilitation had fewer hospitalizations than those who did traditional center-based rehabilitation.
"This really has transformed our ability to provide rehab for our patients," said Chileshe Nkonde-Price, MD, MS, FACC, a cardiologist at the Kaiser Permanente West Los Angeles Medical Center, who led the research. She was also the physician lead in launching the program at Antelope Valley, where she previously practiced.
Each patient is fitted with a smartwatch to use during the program, and their physician works with them to design a highly personalized education and exercise plan. "So, activities might include walking your dog around the park, playing basketball for 10 minutes, or doing a few laps around your local Costco," said Dr. Nkonde-Price, who is also a clinician investigator for the Department of Research & Evaluation.
The smartwatch records the patient's activity, which is later reviewed by a nurse who calls the patient weekly to provide coaching and answer questions.
"I think the secret sauce of this program really is the relationship between the nurse and the member," said Debora Lahti, MSN, regional director of the Kaiser Permanente Southern California Home-Based Cardiac Rehabilitation Program, who manages the program's nurses across all 12 centers. "In feedback surveys, patients consistently say their nurse was instrumental in providing the practical and emotional support they needed to get through the program."
To track the program's ongoing success and identify areas for improvement, the team continues to evaluate patient data. Their upcoming publications will highlight the experiences of patients of different ethnicities and genders, for whom enrollment rates have dramatically improved. And, in her role as an assistant professor at the Kaiser Permanente Bernard J. Tyson School of Medicine, Dr. Nkonde-Price is mentoring several students who are examining the program's impact for various subcategories of patients.
"We are an integrated learning health system in which our research should inform our operations," Dr. Nkonde-Price said. "This is Permanente Medicine at its best."
Achieving equitable care
When the COVID-19 pandemic began in 2020, at- home cardiac rehabilitation became more important than ever. The only change required was to mail smartwatches to patients' homes instead of doing in-person fittings.
"We never missed a beat, whereas the world had to catch up with us," Dr. Batiste said.
Dr. Batiste and his colleagues believe their smartwatch-based program has the potential to improve cardiac recovery both throughout Kaiser Permanente and across the country.
"At its core, this is all about delivering equitable care within our communities," Dr. Funahashi said. "If you need cardiac rehab, you shouldn't have to come to a facility. As a health care organization, we need to figure out how to get that intervention to you."
He and his colleagues are working with Kaiser Permanente leadership to spread the program throughout all 8 regions. They have also partnered with the Centers for Disease Control and Prevention and its Million Hearts initiative to inspire similar programs nationwide.
"Ultimately, we hope that all the people whose lives we could save are actually touched by programs like ours," Dr. Funahashi said.
*Nkonde-Price C et al. JAMA Netw Open. 2022; 5(8):e2228720.