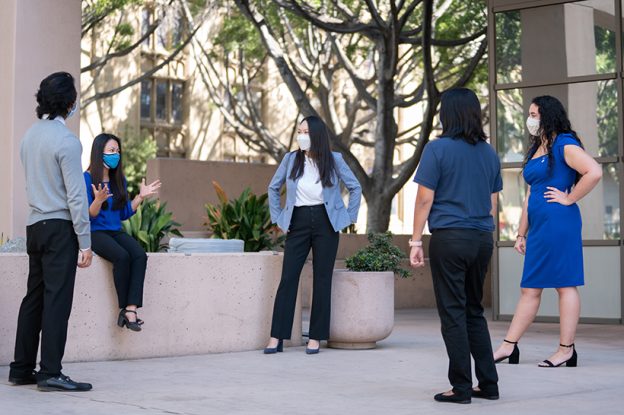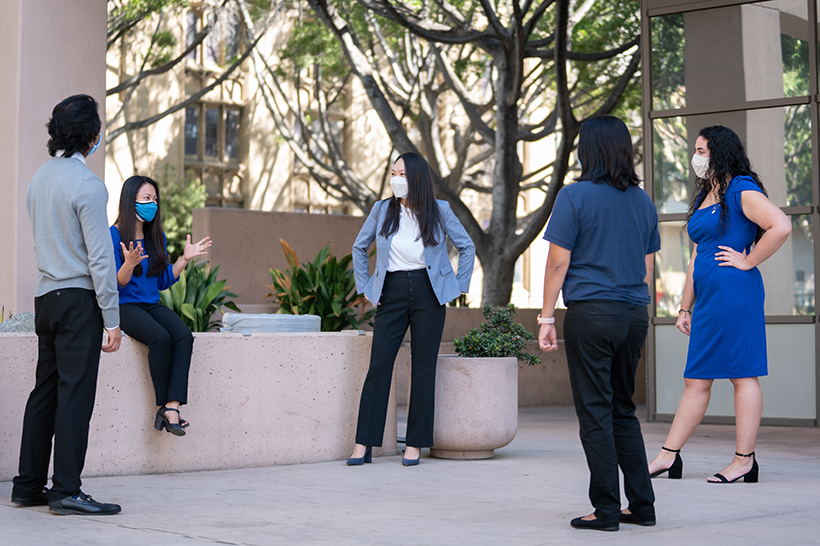 Scientists and physicians conduct research to improve COVID-19 testing and treatment
Researchers and physicians within Kaiser Permanente Southern California continue to find better ways to test, treat, and care for patients with COVID-19. In late October, a few of the researchers and physicians shared their latest projects at a Department of Research & Evaluation Research Seminar.
The COVID-19 projects included examining risk factors for mortality in younger patients, determining which patients are most likely to be readmitted to the hospital and which patients are most likely to have early complications, testing for COVID-19, an overview of on-going collaborations, and estimating the prognosis for seriously ill patients.
While just a small snapshot of work in progress—which didn't include many studies such as the efforts of the clinical trials team, all physicians, or all researchers—it did provide a view into the depth and breadth of Kaiser Permanente Southern California's role in generating new knowledge about COVID-19 and advancing prevention and treatment of the disease.
"These projects have taken a tremendous amount of dedication and collaboration among researchers and physicians as well as our staff," said Kristi Reynolds, PhD, MPH, the director of the Division of Epidemiologic Research for the Department of Research & Evaluation. "We are fortunate to have a large, diverse membership that allows us to find answers to some of the most difficult questions regarding COVID-19, and we are grateful for each and every one of them."
 Surgical outcomes and COVID-19
Ahmed Dehal, MD, MPH, a surgical oncologist at the Kaiser Permanente Panorama City Medical Center, led efforts to enroll several Kaiser Permanente Southern California medical centers in an international surgical cohort study that produced findings published in top journals including The Lancet and the Journal of Clinical Oncology.
The study in The Lancet found that postoperative pulmonary complications occurred in about half of patients who developed a SARS-CoV-2 infection around the time of surgery and were associated with high mortality. The research in the Journal of Clinical Oncology concluded that within available resources, dedicated COVID-19–free surgical pathways—in which elective operating room, critical care, and inpatient ward areas are not shared with patients with COVID-19—should be established to provide safe elective cancer surgery.
Mortality risk factors for younger patients
Dr. Dehal is also conducting a study that looks at COVID-19 mortality among people younger than 50 years of age within the Kaiser Permanente Southern California membership. Data from the first few months of the pandemic showed that overwhelmingly, the younger people who died from COVID-19 were obese and of nonwhite racial/ethnic backgrounds. Many also had other illnesses, such as diabetes.
"The take-home message is that young patients who died from COVID-19 were of minority backgrounds and had significant comorbidities, especially obesity and diabetes," Dr. Dehal said.
Dr. Dehal said he is continuing to research the subject with current data.
Readmissions of COVID-19 patients
"At this point, most us are aware of the acute course of a COVID-19 hospitalization," said Dr. Cheng-Wei "Charlie" Huang, MD, a hospitalist from the Kaiser Permanente Los Angeles Medical Center. "However, we don't know much about these patients following discharge. So, we wanted to characterize COVID-19 readmissions within Kaiser Permanente Southern California."
The study showed that about 7.6% of COVID-19 patients were readmitted within 30 days. Of those, over half were readmitted due to respiratory issues. Those who were readmitted tended to be older, frailer, and had more chronic health conditions than those who were not readmitted. The project was supported by the Department of Research & Evaluation's Care Improvement Team.
Dr. Huang expects to continue to investigate whether some readmissions may be avoidable.
Better detection of early deterioration among COVID-19 patients
Claudia Nau, PhD, and her team created a way for physicians to detect earlier and more reliably which of their hospitalized COVID-19 patients were most likely to need mechanical ventilation or other more extreme measure within 72 hours.
The "Early Deterioration Index" for hospitalized patients was funded by the Regional Research Committee. Dr. Nau and her team have used state-of-the-art machine learning methods to build a highly predictive model which they then adapted for implementation in the electronic health record.
"This risk score was developed to determine as early as possible which patients were most at risk for an adverse event," she said. "The goal is to find those high-risk patients early on so we can identify a mitigating strategy."
She said the score also was successful at identifying those patients at low risk of severe complications. She is continuing to gather physician input to explore implementation.
Racial/ethnic inequities in COVID-19 prevalence and severity
Dr. Nau also presented preliminary work being done into racial/ethnic health inequities for COVID-19. The research showed that inequities remain pervasive after adjusting for other chronic conditions and body weight among patients. The work showed that Asian and Pacific Islander patients are at a higher risk of severe outcomes compared to white patients. Patients who are nonwhite and low income also had higher risk of poor outcomes.
More work is being done to understand the social and community-level factors that may be part of this trend, as well as identifying approaches to alleviate socioeconomic risks of COVID-19 on health behaviors and outcomes. An additional study is looking at whether environmental injustice in the form of greater air pollution in poorer neighborhoods may be a contributing factor.
COVID-19 diagnostic testing: Saliva and anterior nares swabs
Testing for the COVID-19 virus is typically done by using a thin swab to first swab the back of the throat and then to swab deep in the nose, called an NP/OP swab.
"The problem with this," said Katia Bruxvoort, PhD, MPH, "is that it can be painful, it requires a health care provider to collect the sample, and we often have a shortage of these swabs."
She said that as a result, the need to ramp up testing to get ahead of the pandemic will not be possible with NP/OP swabs. Her study set out to determine whether patient-collected saliva tests or patient-collected nostril swabs that don't reach so deep into the nose, could be as accurate as the NP/OP swabs. The study is being conducted at 7 different Kaiser Permanente Southern California emergency departments. At each location, patients with COVID-19 symptoms who have orders for the NP/OP test are also invited to participate by providing a self-collected saliva and nostril swabs.
Funding was from the Regional Research Committee. Dr. Bruxvoort  will complete the data collection this month and after analyzing the data will submit the results for publication.
Overview of some collaborative COVID-19 research
This summer, Sara Y. Tartof, PhD, MPH, collaborated with Kaiser Permanente Northern California and Roche-Genentech on an early study that was published in the Annals of Internal Medicine. That study revealed that patients with COVID-19 who were obese, especially if they were younger or male, had a higher risk of death.
She is again collaborating with Kaiser Permanente Northern California researchers on studies evaluating:
a real-world comparison arm of patients not treated with tocilizumab for COVID-19 to compare with a clinical trial cohort,
the real-world effectiveness of tocilizumab among critically ill COVID-19 patients, and
the time between symptom onset, testing, and outcomes for those with COVID-19.
Dr. Tartof said the last study also will help determine what subpopulations delay testing, which "has tremendous public health implications."
Another partnership with UC Berkeley and Pfizer includes studies exploring:
pneumonia vaccine and COVID-19 among older adults,
the excess burden of illnesses prevented in 2020 versus 2019 in patients vaccinated with the pneumonia vaccine, PCV-13, and
whether invasive fungal lung infections have increased during the COVID-19 pandemic.
Patient prognosis after mechanical ventilation
COVID-19 patients with acute respiratory failure, including those who receive mechanical ventilation, typically have high rates of death. Michael Gould, MD, MS, has been conducting research estimating the prognosis for seriously ill patients with COVID-19 and respiratory failure following 7 days of mechanical ventilation.
"The motivating idea behind this study is that if we are able to accurately estimate prognosis in these patients it can better facilitate communication with families and inform decisions about withholding or withdrawing life-supportive therapies," he said.
The researchers were able to create a model that identified a large percentage patients who don't survive, which in the future can help physicians in their discussions with families. He expects to submit the research for publication.
Funding came from the department's Care Improvement Research Team and the Regional Research Committee.
Teamwork made it possible
Dr. Reynolds said she was grateful for the teamwork that made these important research studies possible.
"Together the researchers,  physicians, programmers/analysts, research associates/project managers, our Clinical Informatics, Regional Research Statistical Support, and Communications teams, our business office, regional business administrators, and division research administrators—everyone came together quickly to mount a rapid research response against COVID-19," she said.
Next research seminar on COVID-19 studies in January
The Department of Research & Evaluation plans a Part 2 of the COVID-19 research seminar in January 2021. The online seminars are open to physicians and employees within Kaiser Permanente Southern California. If you are interested in attending the online seminar,  please contact Tiffany Yuan, MD, at research-seminars@kp.org.