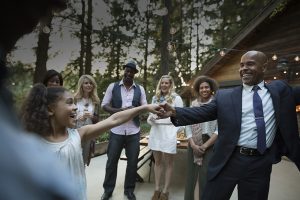 Quality improvement reduces blood pressure control disparities
A Kaiser Permanente Southern California quality improvement program, which harnessed clinical and culturally responsive care strategies, nearly halved the racial disparities previously seen in blood pressure control between Black and white adults.
The results of the work were published in JAMA Network Open.
"It is well known that Black adults with hypertension in the United States are less likely to have controlled blood pressure than their white counterparts," said Teresa N. Harrison, SM, the lead author of the study and a scientific program manager with the Kaiser Permanente Southern California Department of Research & Evaluation. "But these promising results highlight the need for quality improvement programs like this one to address health equity across the nation."
The research looked at more than 624,000 Kaiser Permanente Southern California patients with hypertension and compared the time before the program was implemented (2008 to 2009) to after implementation (2016 to 2019).
Findings show that:
Between 2008 and 2019, the largest reductions in disparities were seen among:

Black and white women ages 50 to 64 years, with a reduction of 61%, and
Black and white men ages 18 to 49 years, with a reduction of 45%.

Throughout the study period, the proportion of patients with blood pressure control at Kaiser Permanente Southern California was higher than the proportion among the general U.S. population.
Despite these large reductions, the disparity in blood pressure control between Black and white patients persisted, particularly in the younger age groups, which also has been reported in other U.S. populations.
"Kaiser Permanente Southern California put years of work into trying to reduce the disparities in blood pressure control between Black and white patients," said Jeffrey W. Brettler, MD, a co-author who also is the Kaiser Permanente Southern California hypertension co-lead, and a physician at the Kaiser Permanente West Los Angeles Medical Center. "This is critically important because by increasing blood pressure control, we are helping to prevent strokes and heart disease. We found that we could reduce those disparities through concentrated quality improvement efforts. We also found that despite all our work some disparities remained, especially among young Black patients. We look forward to continuing our work to eliminate these disparities."
The quality improvement program included:
Monthly performance feedback for physicians with physician-specific performance data on blood pressure control rates
Tailored outreach to Black patients with uncontrolled blood pressure via letters with physician photos and voice recordings by their primary care provider
Panel management programs for Black patients who have not previously used thiazides or are not on optimal lisinopril-hydrochlorothiazide doses
Storytelling videos with African American Kaiser Permanente patients distributed to all regional medical centers for viewing in waiting rooms and provided to patients with uncontrolled blood pressure
Large-group appointments
Clinician and staff education programs around building trust and integrating culturally tailored communication tools
Patient education emphasizing a low-sodium diet, Dietary Approaches to Stop Hypertension (known as DASH) diet, smoking cessation, exercise, weight reduction, and medication adherence
More focused interventions will be needed to increase blood pressure control among younger Black patients, suggested study senior author Kristi Reynolds, PhD, a chronic disease epidemiologist and the director of Epidemiologic Research for the Department of Research & Evaluation.
"This could include partnerships with community groups, social media, and a variety of other initiatives, which we will be exploring as we move forward," she said.
"Our work in reducing and eliminating disparities with blood pressure control will continue," Dr. Reynolds said. "This study has shown us quality improvement programs can have an impact on blood pressure control. That gives us reassurance we are on the right path and hope that as other health care organizations step up their quality improvement in this area, that they, too, will see those disparities be reduced or eliminated."
In addition to Teresa Harrison, Dr. Brettler, and Dr. Reynolds, other authors include Hui Zhou, PhD, Rong Wei, MS, and Jaejin An, PhD, Department of Research & Evaluation; Paul Muntner, PhD, of University of Alabama at Birmingham; and Angeline L. Ong-Su, MD, Kaiser Permanente Panorama City Medical Center. Additionally, Dr. Reynolds, Dr. Zhou, Dr. Brettler, and Dr. An are affiliated with the Kaiser Permanente Bernard J. Tyson School of Medicine.