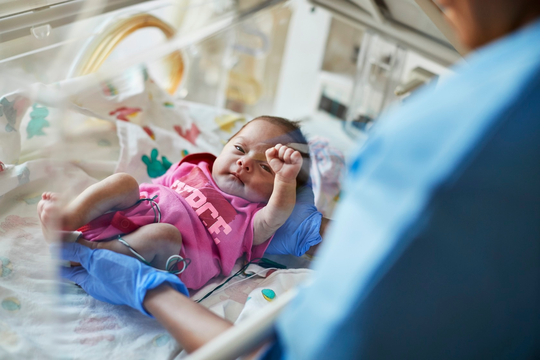 Infant lung disease rates drop dramatically over 10-year effort
Over the last decade, rates of a chronic lung condition known as bronchopulmonary dysplasia have dropped from 20% to less than 2% among very preterm babies at Kaiser Permanente Panorama City. As reported in JAMA Network Open, this decrease is associated with a novel system of care designed by Kaiser Permanente Southern California researchers.
Meanwhile, the rest of the U.S. has not experienced significant change in the rate of this common complication among preterm babies.
"If it is widely adopted, our preventive care approach could potentially have huge benefits for infants and their families throughout the country," said the study's lead author Maria Fe Bellen Villosis, MD, a neonatologist at Kaiser Permanente Panorama City, who led development and implementation of the new system.
Bronchopulmonary dysplasia refers to serious, chronic breathing problems that may arise in prematurely born infants, whose lungs are still growing. Many factors may contribute to the condition, including underdevelopment of the lungs, increased vulnerability to the environment outside the womb, and potential injury from machines or oxygen treatment that may be required to help babies breathe.
In the U.S., about 28% of premature babies develop bronchopulmonary dysplasia, according to the Vermont Oxford Network and a study published in Jama Pediatrics. In California specifically, the rate is 20%, according to a Pediatrics study.
"These numbers haven't changed in at least a decade," said the new study's senior author David Braun, MD, a neonatologist and associate investigator with Kaiser Permanente Southern California Department of Research & Evaluation. "But our findings suggest that a robust, team-based system of consistent care could make a real difference in these rates."
A shared belief that infant lung disease is preventable
Development of the new system began in 2009, when rates of bronchopulmonary dysplasia rose after the Panorama City neonatal intensive care unit moved from its previous location at a different Kaiser Permanente medical center and underwent associated changes in staff.
The increased rates did not appear to be tied to any single specific component of medical care. Instead, according to the neonatal intensive care unit's quality improvement team, what was needed was more consistent, coordinated care stemming from a more robust system of shared understanding among clinicians of how to prevent bronchopulmonary dysplasia.
"Taking care of a patient is a complicated ballet, in which the medical team is the ballet troupe, and the system of care is the choreography," Dr. Braun said. "If there is disagreement about the choreography, an excellent dancer—or doctor—can leap into the air without anyone to catch them, and the ballet—or the patient's health—falls apart."
So, Dr. Villosis and her colleagues laid out a new approach to improve agreement on the "choreography" of patient care. This approach relies on maintaining a shared belief among the care team that bronchopulmonary dysplasia is preventable through proactive measures.
The new system includes refined management practices to ensure consistent care, and it outlines a new, comprehensive clinical decision roadmap for hundreds of different scenarios, accounting for an infant's age and medical condition. It also includes a detailed system of check-ins regarding approaches for individual patients, as well as periodic evaluations of the process itself.
"Under the previous system of care, if asked separately what should be done for a given patient on a given day, members of the care team might give very different answers. If asked as a team, they would likely look to the senior neonatologist for the answer," Dr. Braun said. "Now, those separate answers would be very similar to each other, and the team would discuss and come to an agreement on which scenario and plan best fit the patient."
Dr. Villosis added: "What is crucial to our system is a shared and continuously reinforced mental model of how we are delivering our care on a day-to-day basis. The more our clinicians can understand and anticipate each other's actions, the better the care will be."
Benefits of new system come to fruition
Over ten years of implementation and refinement of the new system, Dr. Villosis and her team observed a decline in the rate of bronchopulmonary dysplasia from 31% in 2009 to 1.6% by 2019 among infants born before 33 weeks' gestational age. The lower rate has remained stable for several years.
"Our results were amazing to see," Dr. Villosis said. "And it was so impressive to experience how our team worked together, especially once they saw our patients doing better."
The team is already in discussions with other medical centers—some as far away as Japan—who may wish to implement the new approach themselves. Through these collaborations, the researchers hope to confirm the effectiveness of their new system and explore how well it might work for different populations of patients.