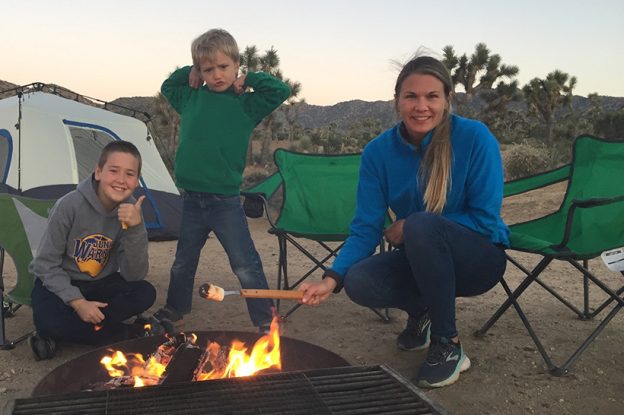 Five questions for … Dr. Katia Bruxvoort
Katia Bruxvoort, PhD, MPH, is an infectious disease epidemiologist and post-doctoral research fellow for the Department of Research & Evaluation. She is a co-investigator on several post-licensure vaccine safety and effectiveness studies (hepatitis B vaccine, shingles vaccine, influenza vaccines). She has broad interests in infectious disease prevention, targeted treatment, the intersection of social needs and health, and more.
You are currently working on improving testing for COVID-19. Please tell us more about that.
I am leading a study with Christopher Tenggardjaja, MD, in 7 Kaiser Permanente Southern California emergency departments to assess the sensitivity of different specimen types for COVID-19 molecular diagnostic testing. COVID-19 testing most often involves combined nasopharyngeal and oropharyngeal (NP/OP) swabs, which are inserted deep into the nose and throat and require a health care provider to collect.
In our study, we are examining whether saliva samples or nostril swabs collected directly by patients have similar sensitivity to provider-collected NP/OP swabs for COVID-19 testing. We aim to include over 2,000 patients, and we are getting close to meeting this goal. We are also working closely with regional leadership so that the results can help guide plans for ramping up COVID-19 testing.
What other studies are you currently working on?
I work on a number of other infectious disease and vaccine-related studies. For example, with Hung Fu Tseng, PhD, I am conducting a post-licensure effectiveness and safety study of the recombinant zoster vaccine. With Steven Jacobsen, MD, PhD, I am working on the post-licensure safety of a 2-dose hepatitis B vaccine. Both studies will have an impact on recommendations for use of these vaccines. I also collaborate with Sara Y. Tartof, PhD, MPH, on an R01 to improve screening and treatment for latent tuberculosis and with Rulin Hechter, MD, PhD, to increase uptake of pre-exposure prophylaxis for HIV.
Before you joined R&E you did work in Tanzania in 2017. Why were you there and what did you accomplish?
I was a research fellow and (after completing a PhD in epidemiology) an assistant professor with the London School of Hygiene and Tropical Medicine, based in Dar es Salaam, Tanzania. My work was focused on malaria diagnosis and treatment. Malaria is common in many countries, causing severe illness and death. Effective treatment is available, but malaria-infected individuals do not always receive prompt treatment, and people who are not infected are sometimes inappropriately treated with antimalarials or antibiotics.
My work involved leading randomized trials and surveys to evaluate the implementation of malaria rapid diagnostic tests in the public health system across Tanzania. I also designed a text message intervention to improve provider knowledge and patient adherence to antimalarial treatment. I enjoyed traveling to villages and urban centers across the country and learned to speak conversational Swahili.
What led you to do your post-doctoral work at the Department of Research & Evaluation, and what have you learned while here?
After moving from Tanzania to Los Angeles for my husband's job, I was looking for a break from travel and an opportunity to develop more versatile skills in epidemiology. I had not had the opportunity to do a post-doc, and when a friend referred me to the Department of Research & Evaluation, I eagerly applied. I am glad I did, as I have received invaluable training in using electronic health records to answer important research questions that can lead to improvements in clinical care and public health. I have also developed expertise in vaccines and, more recently, COVID-19.
What do you enjoy doing in your spare time?
I spend most of my spare time running around outside with my 5-year-old and 10-year-old boys. I enjoy hiking, running, cycling, gardening, and indulging in novels with happy and predictable endings.
Image: Dr. Bruxvoort with her sons Rio, 10, and Remy, 5.