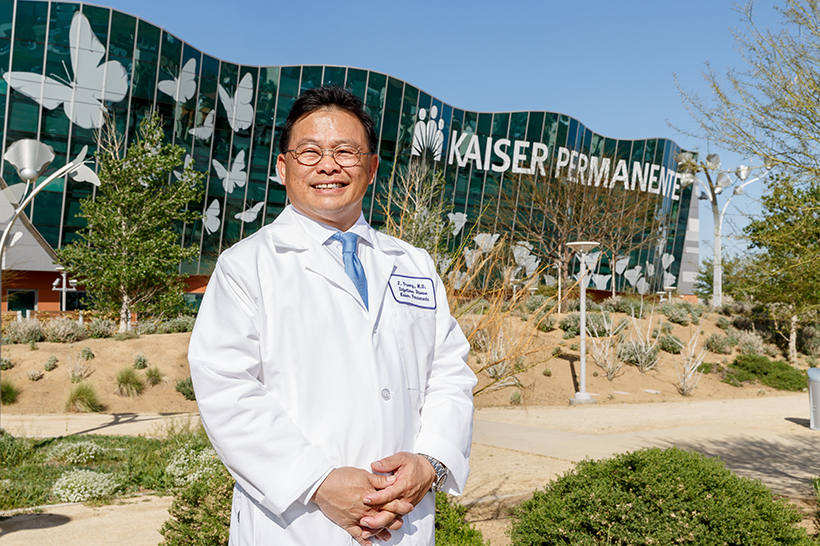 Tackling a deadly regional disease: Valley fever
Over the years, the Department of Research & Evaluation's Division of Clinical Trials Research has tackled some of the most serious infectious diseases facing Americans, including HIV/AIDS and hepatitis C.
Recently, the clinical trials team and epidemiologists targeted a deadly regional disease: Valley fever. Also known as coccidioidomycosis, Valley fever is a respiratory disease caused by inhaling microscopic fungal spores that live in dry desert soil in the southwestern United States.
In northern Los Angeles County's Antelope Valley, cases of Valley fever increased 258% from 2001 to 2016, when nearly 600 cases were reported. And, physicians say, numbers continue to rise.
To create a clinical trial program focused on Valley Fever, researchers had to go where the disease was affecting the most people, places where there had never been clinical trials before—the Antelope Valley and Bakersfield in Kern County, California.
"Despite Kaiser Permanente being a very large entity, we can quickly accommodate research needs where they exist," said William Towner, MD, director of clinical trials.
Epidemiological research adds to knowledge of Valley fever
Laying the groundwork for the Valley fever clinical trial, Research & Evaluation researcher Sara Tartof, PhD, MPH, investigated the disease from an epidemiological perspective. Her first study looked at how many patients with community-acquired pneumonia were screened for Valley fever from 2001 to 2011.
She is working on a second study, which examines the sequence of events that Valley fever patients encounter as they make their way through the health care system. She found that many patients were prescribed multiple rounds of antibiotics before getting a Valley fever diagnosis. The study concluded that limited and delayed testing likely leads to underdiagnosis of the condition.
Physicians power clinical trials with commitment
And, although the clinical trials division had previous experience with infectious disease, the timeline to get the program going was much quicker than with HIV/AIDS or hepatitis C, Dr. Towner said.
"Without the willingness and enthusiasm of the administration at Kaiser Permanente's facilities in Bakersfield and Antelope Valley, it would have been impossible to get these clinical trials up and running," Dr. Towner said.
Now as patients come in with pneumonia-like symptoms, physicians ask them if they will be in the study. If they agree, physicians follow them for 2 years. They learn what percentage of patients are ultimately diagnosed with Valley fever, how well they respond to antifungal treatments, and in what percentage of them the fungal infection spreads to the brain and other parts of the body.
"Together, we committed ourselves and changed our work flow to make sure the study would be successful here," said Jonathan Truong, MD, chief of infectious disease at Kaiser Permanente Antelope Valley, the physician lead on the trial who has also done Valley fever research.
Clinical trials expected to lead to new protocols
Aung Kyaw Htoo, MD, in Bakersfield, who is also working on the clinical trial noted: "Right now, Valley fever is affecting a lot of people in this area, and all the doctors are treating it based on their own experience and intuition."
The trial, he said, will help researchers and physicians to create a new protocol for best treating patients with Valley fever, helping to keep patients, and the community, healthier.
_________
To read the full article, please check out the Department of Research & Evaluation's 2018 Annual Report.