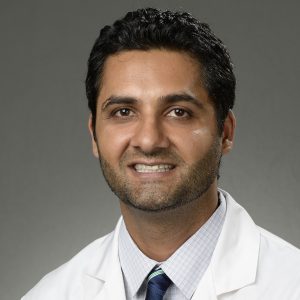 Stroke program integrates clinical trials
At Kaiser Permanente Southern California, physicians and researchers have been transforming stroke care, from simply treating the patients to also enrolling those not helped by the standard care into a clinical trials program, which expands the treatment options.
"Our stroke program shows how Kaiser Permanente is invested in growing our clinical care through clinical trials," said Navdeep Sangha, MD, a vascular neurologist who sees patients physically at the Kaiser Permanente Los Angeles Medical Center and virtually throughout Kaiser Permanente Southern California. "And it really is putting us on the map as not just being a place where we provide excellent clinical care for patients, but also a place where we are enrolling patients in clinical trials to discover that next level of care."
May is Stroke Awareness Month
May is Stroke Awareness Month, a time when organizations and the Centers for Disease Control and Prevention highlight the importance of quick treatment for people who have strokes. Acting quickly can help stroke patients get the treatments they need to survive and reduce damage to the brain.
According to CDC, more than 3 out of 5 people are aware of all major stroke symptoms and know to call 911 if someone is having those symptoms:
Sudden numbness or weakness in the face, arm, or leg, especially on one side of the body
Sudden confusion, trouble speaking, or difficulty understanding speech
Sudden trouble seeing in one or both eyes
Sudden trouble walking, dizziness, loss of balance, or lack of coordination
Sudden severe headache with no known cause
However, there's still a need to educate 2 out of 5.
The stroke program at Los Angeles Medical Center has a robust multidisciplinary clinical trial program that includes multiple studies aimed at improving outcomes for stroke patients, said Zahra Ajani, MD, comprehensive stroke program medical director, Los Angeles Medical Center Comprehensive Stroke Center.
"Our goal is to provide the highest-quality, evidenced-based care for patients and families dealing with cerebrovascular diseases and innovate new methods of diagnosis and treatment through research and clinical trials," Dr. Ajani said.
KPSC stroke program uses teleconferencing
The stroke program at Kaiser Permanente Southern California allows expert treatment by a stroke specialist at any of the region's 15 emergency departments through a teleconferencing program, said Dr. Sangha.
"We see patients emergently through our telemedicine program. We can virtually be in the patient's room, seeing and examining them and directing the care through the help of a nurse who is with the patient" said Dr. Sangha.
Ongoing research led to top designation
Three years ago, the Los Angeles Medical Center became a Joint Commission Certified Comprehensive Stroke Center. The designation is due, in part, to the ongoing research at the medical center as well as the other Kaiser Permanente medical centers in Southern California.
"Part of that designation was because of the ongoing clinical trials research, which allows patients—who may not have made it to the hospital in time to reverse stroke damage—to, if qualified, enroll in a clinical trial that may provide further potential treatment," said Dr. Sangha.
Kaiser Permanente Southern California has the second-highest enrollment nationally in an active clinical trial called TIMELESS, which is looking at the effectiveness of treating patients with a clot-busting drug within 4.5 to 24 hours of the onset of stroke symptoms. The region was also the second-highest enroller in the Mild and Rapidly Improving Stroke Study (MaRISS), which recently closed. The purpose of that study was to evaluate treatment options for patients with mild and rapidly improving stroke symptoms.
Integrating clinical care and clinical trials
The stroke team is a great example of integration of clinical trials into clinical care, said William Towner, MD, the regional physician director for the Division of Clinical Trials Research, who leads the Clinician Investigator Program for the Southern California Permanente Medical Group.
"The clinical trials team is always looking for ways to integrate research into clinical care and our stroke team has achieved that," Dr. Towner said. "They are providing new treatment opportunities for patients, while also allowing those patients to be part of determining the best stroke treatments for others."