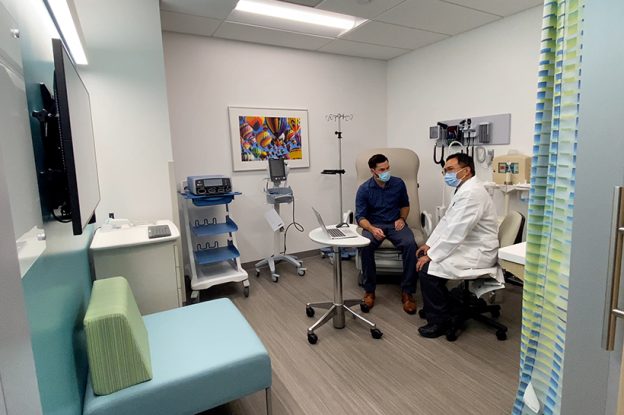 Shoulder pain rare after vaccination
Shoulder pain and injury are extremely rare after any type of vaccination in the upper arm, according to pre-pandemic Kaiser Permanente research published March 22, 2022, in Annals of Internal Medicine.
Conducted from April 2016 through December 2017, the study found fewer than 1 in 10,000 people reported shoulder injuries in the more than 2.2 million Kaiser Permanente members who were vaccinated during that time. The study included adults and children, whose risk was even lower at approximately 5 injuries in 1 million people.
"The overall chance of having shoulder problems after vaccination is so rare that the risk-benefit ratio is still overwhelming in favor of vaccination," said Chengyi Zheng, PhD, of the Kaiser Permanente Southern California Department of Research & Evaluation, who led the study.
The researchers reviewed members' health records following almost 3.8 million vaccinations, and found 371 reported adult shoulder injuries. In more than 750,000 children who were vaccinated, only 4 cases of shoulder conditions were cited.
This research was one of the first population-based studies that reviewed more than 2,000 shoulder conditions, and included all types of vaccinations into the upper arm, according to Dr. Zheng. The study was also the first time an incident rate could be estimated for rare vaccination shoulder injuries.
"The study demonstrated the power of using artificial intelligence in reviewing medical records," Dr. Zheng said. "A study like this wouldn't be possible otherwise because of time and resource constraints to review millions of records. This study also benefited from Kaiser Permanente Southern California's comprehensive electronic health record system."
The study found the following number of reported shoulder injuries per 10,000 vaccinations:
In adults, ages 18 and up, there were 1.22 reported injuries
In children, ages 3 to 17, there were 0.05 reported injuries
In a further breakdown, there were 0.6 injuries in the 18 to 49 age group; 1.60 for ages 50 to 64; and 1.67 for ages 65 and older.
Those most at risk for shoulder injury were older adults, women, people with small deltoid muscle mass, patients with multiple outpatient visits in the 6 months prior to vaccination, those with comorbidities, and individuals getting the pneumonia vaccine. Vaccination for multiple strains of flu and simultaneous vaccination n the elderly, also increased risk.
The study did not determine the cause of vaccine-associated injuries, but Dr. Zheng said it is believed that most of the shoulder injuries happened when the needle was administered in the shoulder joint instead of the deltoid muscle, causing inflammation.
The study cited that injuries were preventable by administering vaccines correctly. "Shoulder injuries from immunizations are most likely preventable by safe vaccine administration," said Dr. Zheng.
The researchers recommended that providers administering vaccines be mindful of women and the elderly who are more likely to have lower deltoid muscle mass. For these patients, they advise using a small-size needle, injecting into the middle of the deltoid, and avoiding deep insertion.
Dr. Zheng's co-authors included In-Lu Amy Liu, MS; Lina S. Sy, MPH; Wansu Chen, PhD; Lei Qian, PhD; Denison Ryan, MPH; Sunhea S. Kim, MPH; Cheryl Mercado, MPH; and Steven J. Jacobsen, MD, PhD, (former); of the  Department of Research & Evaluation, Kaiser Permanente Southern California, Pasadena, California; Ronald A. Navarro, MD, Kaiser Permanente South Bay Medical Center, Harbor City, California; and Jonathan Duffy, MD, MPH, Immunization Safety Office, Centers for Disease Control and Prevention, Atlanta, Georgia.
The study was funded by the Centers for Disease Control and Prevention's Vaccine Safety Datalink.