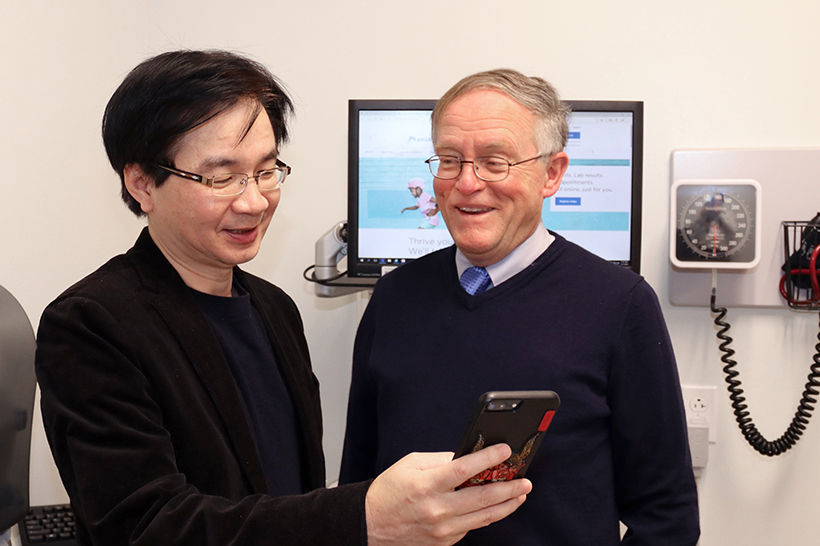 Research: RSV infection can be deadlier than flu in adults
At A Glance
The seriousness and frequency of RSV disease in adults is under-recognized by physicians.
Although they may present as similar, new research shows that respiratory syncytial virus (RSV) may be more dangerous than influenza.
In many ways, the initial symptoms of influenza and respiratory syncytial virus are indistinguishable. But, research published in Clinical Infectious Diseases last month showed that RSV infection may be even more dangerous than the flu in older adults.
The Kaiser Permanente Southern California study of hospitalized adults revealed that RSV infection, a highly contagious respiratory virus common in children, was associated with longer hospitalization, greater odds of pneumonia and ICU admission, and greater risk of death in the year following the hospitalization, as compared with influenza infection in older adults.
RSV can have long term health complications
"The flu can be deadly, but if you survive you are less likely to have long-term negative outcomes than if you survive RSV infection," said Bradley Ackerson, MD, a physician at Kaiser Permanente's South Bay Medical Center in Harbor City. "In the short term, RSV is more likely than flu to be associated with the worsening of conditions like chronic obstructive pulmonary disease. Over the long term, RSV can be more deadly than flu."
Yet physicians who treat adults often don't recognize the difference, researchers say. RSV looks like the flu, and there aren't yet any specific medications to treat RSV, said Hung Fu Tseng, PhD, MPH, a co-author on the study and a researcher with the Kaiser Permanente Southern California Department of Research & Evaluation.
The lack of specific treatment makes prevention even more important.  To this end, vaccines are now being developed
The seriousness of RSV has been under recognized
"The seriousness and frequency of RSV disease in adults is under-recognized by those who treat adults," Dr. Tseng said. "This is understandable since tests in the past detected flu only, so adult providers would not be aware of RSV disease. But newer respiratory testing allows identification of multiple respiratory pathogens, including RSV, as a cause of flu-like illness."
The study was published in Clinical Infectious Diseases. The RSV Consortium in EUrope (RESCEU) recognized it as the paper of the month in December 2018.
During the study that covered 5 consecutive winters, 645 adults ages 60 years and older hospitalized with RSV, and 1878 adults hospitalized with influenza at Kaiser Permanente Southern California hospitals were included in the study.
Patients with RSV have higher risk of pneumonia than those with flu
Researchers found that members hospitalized with RSV compared to flu had:
Greater chance of longer hospital stays
Higher risk of pneumonia
Higher chance of ICU admission
Greater likelihood of requiring home health service after discharge
Greater risk of death within one year of hospitalization
Angela Branche, MD, an assistant professor of medicine in the Division of Infectious Diseases at the University of Rochester in New York wrote an editorial that accompanied the Kaiser Permanente research in the journal. She suggests that knowing that an elderly patient has RSV early in their hospital stay might allow clinicians to begin early interventions such as chest physiotherapy, bronchodilators, and anti-inflammatory treatments as well as physical therapy to get the patient moving and prevent deconditioning.
Making an RSV diagnosis should be important to physicians
"Or perhaps a diagnosis of RSV infection and understanding of its potential functional decline in older adults can be used to better counsel patients and their families about overall prognosis and the need for post-hospitalization rehabilitation services," she writes. "For those reasons, making a diagnosis of RSV should be very important to all clinicians."
Dr. Ackerson added that treating RSV patients with the medications used for flu such as Tamiflu may increase the risk of side effects from the medication without providing clinical benefit.
Soon, RSV could become preventable and treatable
"The importance of recognizing and detecting RSV infection will become even more important in the future if RSV becomes a preventable and treatable condition," Dr. Ackerson said. "But first, we need to know that it is RSV."
Authors on the study also included Lina S. Sy, MPH; Zendi Solano, BS; Jeff Slezak, MS; Yi Luo, PhD, MS; and Christine A. Fischetti, MPH, of the Department of Research & Evaluation; and Vivek Shinde, MD, MPH, of Novavax, Gaithersburg, MD.