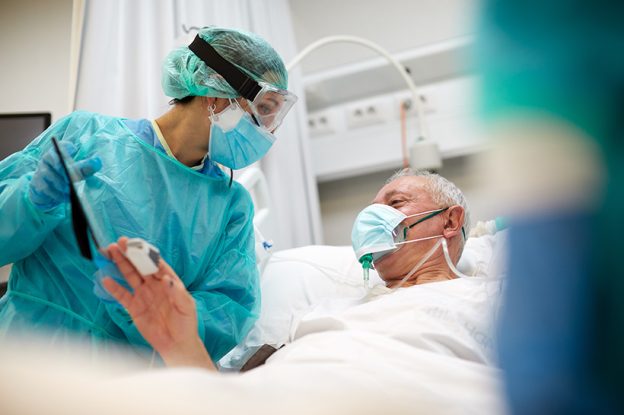 Remdesivir may reduce hospital readmissions for COVID-19 patients
A study of Kaiser Permanente Southern California members who were hospitalized for COVID-19 identifies key factors associated with lower chances of readmission — including treatment with the medication remdesivir and delaying discharge until 10 days have passed since COVID-19 symptoms began.
"This study supports a continued role for remdesivir in treating COVID-19," said the study's lead author, Cheng-Wei "Charlie" Huang, MD, a hospital medicine physician at the Kaiser Permanente Los Angeles Medical Center.
The research was published September 14, 2022, in the Journal of General Internal Medicine. The findings from 2020 add to a growing body of research that could help physicians more confidently decide on the best, safest timing for discharging a patient.
"Earlier investigations focused on factors that we can't really change, such as age or other health issues that the patient already has," said co-author Joon Park, MD, also a hospital medicine physician at the Los Angeles Medical Center. "Here, we focused on disease-specific parameters that physicians might also consider in deciding when to send a patient home."
A data-driven investigation
To better understand the risk of readmission or death after discharge, the researchers evaluated data from 3,508 adult Kaiser Permanente southern California patients who left the hospital after being hospitalized for COVID-19 between May 1 and September 30, 2020.
The data included baseline patient characteristics, including age and comorbidities, as well as disease-specific factors, such as whether each patient received remdesivir and what level of supplemental oxygen, if any, they required at discharge.
Then, the researchers analyzed the data using several statistical tools, including a machine-learning method known as least absolute shrinkage and selection operator (LASSO).
"LASSO allowed us to pick out which factors have the strongest statistical ties to readmission, while suppressing factors that may appear to be important, but are really just correlated with the stronger factors," said Ernest Shen, PhD, a research scientist in the Kaiser Permanente Southern California  Department of Research & Evaluation. "It was a key component of a very robust and thorough statistical approach."
In line with earlier research, the analysis confirmed that age and comorbidities are strongly associated with a patient's risk of readmission or death within 14 days of discharge. However, LASSO also identified 2 disease-specific factors that were very strongly associated with reduced risk: treatment with remdesivir and discharge more than 10 days after symptom onset.
Two additional disease-specific factors were also linked to reduced readmissions and death: the patient using less than 3 liters per minute of oxygen at discharge, and discharge 2 days after fever has passed.
Reassuring results
Currently there is no universal standard for discharge of COVID-19 patients, and while providers have learned to judge clinically, there are times when uncertainty remains.
"Our new insights could make it easier for doctors who are on the fence to decide if a patient should go home," Dr. Park said. "Personally, this project has given me more confidence in my own decisions on discharging patients."
The study also suggests a continued role for remdesivir. "We were surprised by how strong our findings were for remdesivir," Dr. Huang said. "It is by no means a miracle drug, but our results support continued use of remdesivir as indicated."
Meanwhile, the researchers note that overall chances of readmission after discharge are already fairly low.
"This study provides a lot of reassurance that we have been doing the right thing," Dr. Park said, "but here at Kaiser Permanente we are always looking at ways to improve care delivery and keep patients safer, at our own clinics and across the medical system."
The research was supported by a grant from the Regional Research Committee of Kaiser Permanente Southern California. The authors say that as the pandemic continues and new variants emerge, further evaluation will be needed to determine the best methods of management for COVID-19.
In addition to Dr. Huang, Dr. Park, and Dr. Shen, co-authors include Hubert Song, MS, Huong Nguyen PhD, RN, and Janet S. Lee, MS, of the Department of Research & Evaluation, and Vang Kou Khang, MD, Albert S. Yu, MD, and Christopher C. Subject, MD, of the Kaiser Permanente Los Angeles Medical Center.