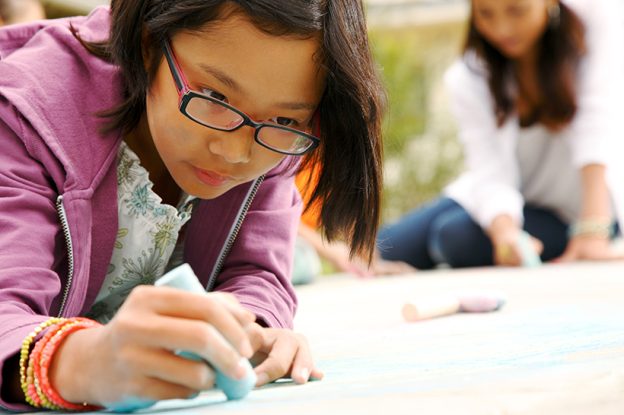 Progression of children's myopia may be influenced by race and ethnicity
Asian American children are at a much higher risk of a progression of myopia—commonly known as nearsightedness—a new Kaiser Permanente Southern California study shows.
"Some people think of myopia only as an issue that can be easily corrected with glasses or contact lenses. However, myopic patients have a higher risk of  vision loss throughout life as a result of the anatomic changes—namely the abnormal elongation of their eye." said Bobeck S. Modjtahedi, MD, a co-author on the study, clinician investigator, and an ophthalmologist at the Kaiser Permanente Baldwin Park Medical Center.
Patients can have permanent vision loss from secondary issues associated with myopia, like retinal detachments or myopic maculopathy.
"What we wanted to do in this study was to identify risk factors for who is at risk from myopic progression because higher levels of myopia are associated with increased risk of vision loss from these secondary issues," Dr. Modjtahedi said.
Research has heightened importance during pandemic
This study is especially important right now, as COVID-19 is keeping people indoors, said Donald Fong, MD, MPH, a co-author on the study, clinician researcher, and ophthalmologist at the Baldwin Park Medical Center.
"During this time of COVID-19, kids are spending more time in virtual education," Dr. Fong said. "We now know that spending 2 hours a day outside can reduce the risk of myopia. We need to remind children and their parents the importance of spending time outdoors."
Diverse study population shows Asian Americans at risk
The study was published in Investigative Ophthalmology & Visual Science  in November. It comes at a time when about one-third of American and European adults have myopia, but the prevalence of myopia in Asian countries is now about 80 to 90%. It is estimated that nearly 50% of the global population will have myopia by 2050 and 9.8% will have high-grade myopia.
For the study, the researchers examined the electronic health records of 11,595 Kaiser Permanente Southern California patients ages 4 to 11 years with documented nearsightedness between 2011 and 2016
The diverse patient population was 55% Latino, 15% White, 9% Black, 9% East/Southeast Asian, and 2% South Asian. They were 53% female. The mean age was 8.9 years old.
Asian Americans' myopia progresses at higher rate
Researchers found that at each age level, age of onset and baseline refraction—in other words, how bad the myopia was—the Asian American patients progressed at a higher rate.
"This is a public health epidemic that has been missed," Dr. Fong said. "And there could be serious consequences."
Dr. Modjtahedi noted that one of the unique aspects of the research was that it investigated this condition in the Asian population in the United States whereas prior studies have mostly been done in East Asia.
He said it was critical for clinicians to be mindful of the significant impact myopia has on individual patients and, increasingly, populations at large, as well as the evolving interventions available to combat it.
Research on myopia continues
As they continue to investigate risk factors, the team is also participating in clinical trials to study medical interventions for myopia. They are also looking at the issue of increased indoor and screen time due to increased virtual learning in children, and whether that is causing an increase in myopia.
Among the other authors are: Tiffany Q. Luong, MPH, and Yu-Hsiang Shu, PhD, MS, of the Kaiser Permanente Southern California Department of Research & Evaluation; Nozhat Choudry, PhD, of Santen Canada, Toronto, Ontario, Canada; Yoko Tanaka, PhD, Santen Inc., Emeryville, California; Claudia L. Nau, PhD, Kaiser Permanente Southern California Department of Research & Evaluation.