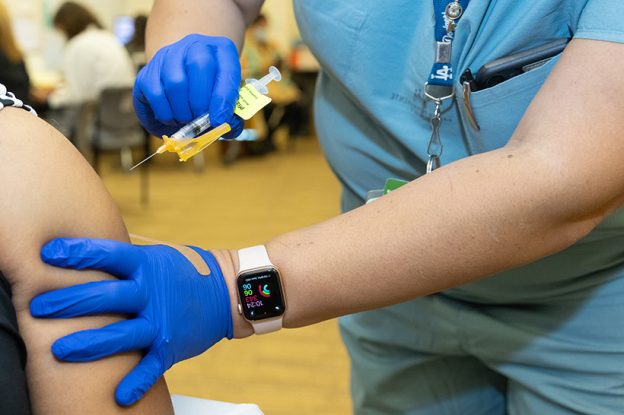 Pfizer-BioNTech COVID-19 vaccine effectiveness wanes over time
A recent study led by Kaiser Permanente found the Pfizer-BioNTech, BNT162b2, mRNA-based COVID-19 vaccine is highly effective against hospitalization for 6 months after full vaccination, even in the face of widespread transmission of the delta variant. The study was published in The Lancet. (An earlier draft of the study was previously posted on The Lancet preprint server.)
The study also shows that reductions in effectiveness against COVID-19 are likely primarily due to waning of effectiveness against infection, rather than the delta variant escaping vaccine protection.
The study combined robust epidemiologic data with variant-specific data from systematically sequenced positive COVID-19 swabs.
"This unique dataset allowed us to look at vaccine effectiveness over time, specifically for the delta variant versus other variants," said Sara Y. Tartof, PhD, an infectious disease epidemiologist with the Kaiser Permanente Southern California Department of Research & Evaluation and lead author of the study. "When we looked at vaccine effectiveness against delta, we saw that protection against infection starts very high but declines over time. We see the same thing with other variants as well. If delta escaped protection, we would expect vaccine effectiveness to be very low at all time points, including the first month."
In this study, researchers analyzed electronic health records from Kaiser Permanente members in Southern California between December 14, 2020, and August 8, 2021, to assess the Pfizer 2-dose COVID-19 vaccine effectiveness against infection and hospitalization. More than 3 million Kaiser Permanente members were included in the study. Among these members, 184,041 became infected with SARS-CoV-2 and 12,130 were hospitalized for COVID-19 during the study period.
For people fully vaccinated with the Pfizer vaccine, effectiveness was 73% against coronavirus infection and 90% against COVID-19-related hospitalization over the 6-month follow-up.
Effectiveness against infections declined from 88% during the first month after full vaccination to 47% at 5 to 6 months.
Vaccine effectiveness against infections of the delta variant was 93% after the first month of full vaccination and declined to 53% at 4 to 5 months.
Effectiveness against non-delta coronavirus variants declined from 97% in the first month after full vaccination to 67% at 4 to 5 months.
"What this study suggests is that the introduction of the delta variant may not be the primary driver of recently reported declines in effectiveness of COVID-19 vaccines and the increasing rates of breakthrough infections among people who are fully vaccinated," Dr. Tartof said.
In addition to Dr. Tartof, co-authors from the Kaiser Permanente Southern California Department of Research & Evaluation were Jeff M. Slezak, MS; Heidi Fischer, PhD; Vennis Hong, MPH; Omesh N. Ranasinghe, MP; and Oluwaseye A. Ogun, MD. Other co-authors include Bradley K. Ackerson, MD, of the Southern California Permanente Medical Group, Harbor City, Calif.; Timothy B. Frankland, MA, of the Kaiser Permanente Center for Integrated Health Care Research, Honolulu, Hawaii; and Joann M. Zamparo, MPH; Sharon Gray, MS; Srinivas R. Valluri, PhD; Kaije Pan, MS; Frederick J. Angulo, PhD; Luis Jodar, PhD; and John M. McLaughlin, PhD, of Pfizer Inc.