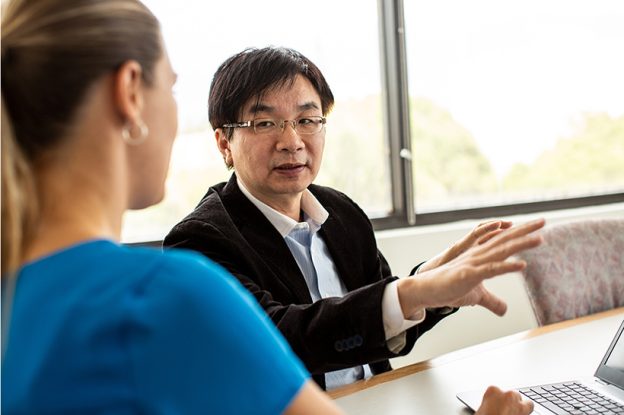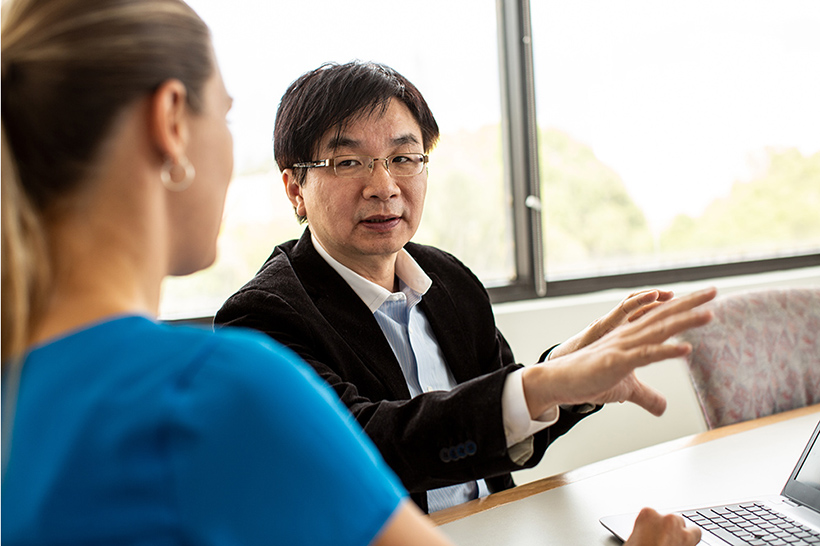 New research sheds light on shingles
If you have a normal immune system, your chance of being hospitalized for complications of herpes zoster — also known as shingles — or dying from it, is small, according to new Kaiser Permanente research.
The research, published in The Journal of Infectious Diseases, provides an expanded understanding of shingles — a sometimes fatal virus characterized by painful rashes—and its outcomes, as well as a baseline to evaluate how a newly licensed shingles vaccine called Shingrix changes the trends.
"Our study showed that on average, 1 in 100 people age 50 and older with normal immune systems who had never been vaccinated would develop shingles every year," said lead study author Hung Fu Tseng, PhD, MPH, of the Kaiser Permanente Southern California Department of Research & Evaluation. "And the risk increases with age. If your immune system is healthy, hospitalization for or death from shingles is uncommon and mostly occurs in those who are 80 years and older."
One surprising finding from the research was that having shingles once did not protect someone from getting it again.
"The risk of shingles recurrence is similar to that of getting it the first time," Dr. Tseng said, "however, it slightly decreases with age."
About 1 of every 3 people in the United States will develop shingles in their lifetime, according to the Centers for Disease Control and Prevention. Shingles is caused by the varicella zoster virus, the same virus that causes chickenpox. After a person recovers from chickenpox, the virus stays dormant in the body. This virus can reactivate years later, causing shingles. Before the first shingles vaccine was available, an estimated 1 million people got shingles each year in this country.
The study looked at the electronic health records of Kaiser Permanente Southern California members in various periods between 2007 and 2016. The members were ages 50 years and older, had healthy immune systems, and were not vaccinated against shingles. It excluded people diagnosed with HIV, leukemia, or lymphoma, and those who had taken medications that might suppress their immune systems.
Among the findings of the research:
8 to 10% of shingles patients will have some sort of shingles complication other than long-term pain.
For people with a normal immune system, the chance of being hospitalized for shingles is around 1 in 12,000 people each year.
For shingles patients, the chance of dying from shingles is 1 in 2500, with those 80 years and older at highest risk (1 in 400).
The study findings allow physicians to better understand the risk of shingles and to reassure otherwise healthy patients about their chance of severe illness or death. The findings underscore the importance of being immunized against shingles, even for people who already developed it once, said Bradley Ackerson, MD, a physician at the Kaiser Permanente South Bay Medical Center in Harbor City.
"Shingles is not a rare disease. The incidence generally goes up with age, and the risk of long-term complications is substantial," Dr. Ackerson said. "So being vaccinated not only prevents the zoster but also helps prevent the complications of the condition."
The study gives physicians and researchers a good baseline to determine the effectiveness of the newest shingles vaccine available to patients. This new vaccine does not contain a live virus, as the older vaccine did., Dr. Ackerson said.
Along with the research, The Journal of Infectious Diseases published an associated editorial, which was written by Rafael Harpaz MD, MPH, and captain (ret.), United States Public Health Service.
Dr. Harpaz stated in the editorial that "the novel results in this report provide important contributions regarding the burden of HZ (herpes zoster) in the population; they will undoubtedly be cited in future health-economic evaluations of HZ."
He also noted, "This report fills gaps in our understanding of the burden of HZ disease, but its findings provide insights on the biology of VZV as well."
In addition to Dr. Tseng and Dr. Ackerson, authors on the paper include: Katia Bruxvoort, PhD, MPH;  Yi Luo, PhD; Hilary Tanenbaum, PhD, MPH; Yun Tian, MS; Chengyi Zheng, PhD; Bianca Cheung, MS; and Lina S. Sy, MPH, from the Department of Research & Evaluation in Pasadena, Calif.; Brandon J. Patterson, PharmD, PhD, of Health Outcomes and Epidemiology, GSK, Philadelphia, Penn.; and Desiree Van Oorschot, MSc, of Health Economics, GSK, Wavre, Belgium.