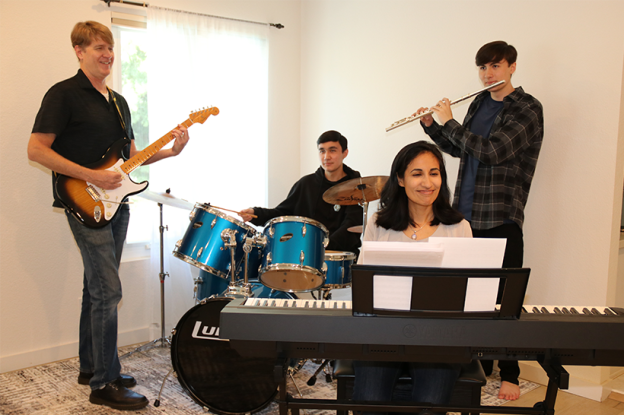 New protocol allows teen to go home same day as chest surgery
At A Glance
Physicians at the Kaiser Permanente Los Angeles Medical Center were the first to publish research demonstrating the potential of same-day discharge for young patients with pectus excavatum, a congenital chest deformity.
The procedure the physicians pioneered allowed teenager John Connell to go home the same day he had the 'Nuss procedure' to repair his pectus excavatum.
About 5 years ago, John Connell, now 16, was at a water park when a friend pointed his index finger at John's bare chest and asked, "Were you in a car accident or something?"
John looked down at his chest, and then at the chests of the other boys around him, and realized for the first time, his was different. It caved inward. He had a chest deformity he later learned was known as pectus excavatum.
John is an easygoing, considerate teen who loves to play the flute and generally takes hardships with a cheery attitude. But he was still worried about undergoing surgery, despite increasing difficulty to take deep breaths.
Then he and his parents heard that the pediatric surgeons at the Kaiser Permanente Los Angeles Medical Center were pioneering a new pain control method to repair pectus excavatum that would cause less pain and less time in the hospital.
"Rather than staying a week after the surgery, I could go home the same day and potentially have significantly reduced pain," John said, "It really wasn't a decision. I had to do it."
John was one of a growing number of children who can now go home on the same day they have pectus excavatum surgery, thanks to a pain control protocol developed by the Kaiser Permanente Southern California Pediatric Care Surgical Subspecialties group. The Kaiser Permanente Los Angeles Medical Center team was the first to publish research demonstrating the potential of same-day discharge for these patients. Other Kaiser Permanente medical centers in Southern California are now also using the protocol.
"With better pain management, we've drastically shortened the amount of time children spend in the hospital, while reducing costs and opioid use," said R. Luke Rettig, MD, a resident at Kaiser Permanente Los Angeles Medical Center's Department of Pediatric Surgery.
Pectus excavatum is congenital condition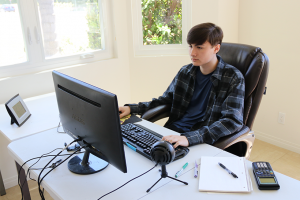 In children with pectus excavatum, their breastbone and ribs develop abnormally, resulting in a sunken-in chest. This congenital condition may lead to symptoms that include difficulty exercising, chest pain, or psychological distress due to the appearance of the chest. For John, it was limiting his athletic ability and preventing him from holding long notes on the flute.
Some adolescents and young adults with pectus excavatum like John have a surgery known as the Nuss procedure, in which metal bars are placed into the chest to correct the deformity.
"Unfortunately, this surgery puts a huge amount of stress on the ribs, which can cause debilitating pain," said Roman Sydorak, MD, a pediatric surgeon at the Kaiser Permanente Los Angeles Medical Center, and one of John's surgeons. The other surgeon who did John's surgery was Donald B. Shaul, MD, who is now retired.
Freezing nerves to numb pain
Traditionally, after the Nuss procedure, a child stays at the hospital for at least 3 to 5 days while their pain is managed with epidural anesthesia given via a catheter inserted into the back. But once the patient goes home, pain can persist for weeks.
However, in 2016, a new technique came on the scene: intracostal nerve cryoablation. Applied during surgery, this technique uses liquid nitrogen and a probe to temporarily freeze key nerves in the chest, numbing them to pain. By the time the nerves recover a few months later, the pain from the surgery has subsided.
After incorporating cryoablation into the Nuss surgery protocol at Kaiser Permanente for several years, Dr. Rettig, Dr. Sydorak, and other members of the Surgical Subspecialties group conducted a retrospective study to evaluate it.
As reported in the medical journal Pediatric Surgery International, they found that children who received cryoablation stayed in the hospital for an average of 2.5 days, compared to 5 days for those who received traditional epidural anesthesia.
"Still, we found that the full effects of cryoablation can take about 24 hours to kick in, so patients may still be in a fair amount of pain for that first day," said Dr. Rettig, who led the study.
So, he led a second study in which he and his colleagues injected a local anesthetic into the nerves, in addition to applying cryoablation. By doing so, they were able to block the pain that the patients felt before the effects of cryoablation set in. As reported for the first time in the Journal of Pediatric Surgery, children were able to go home on the same day as their surgery.
"We're now sending 2 out of 3 kids home on the same day, with no pain," said Dr. Sydorak, who is senior author on both studies. "And we're sending them home with acetaminophen and ibuprofen , no opioids."
Franklin Banzali, MD, a pediatric anesthesiologist at Kaiser Permanente Los Angeles Medical Center and a co-author on both studies, said the studies have the potential to completely shift families' viewpoints on this surgery: "Same-day discharge is a huge win for all involved."
Integrated system key to success
Kaiser Permanente's integrated system was key for this achievement, the physicians said. In particular, they acknowledge the central role played by Karen Rodriguez, NP, a nurse practitioner who helped organize the care process and serves as liaison to patients' families.
Rodriguez was especially helpful in preparing John's family for the surgery, said John's mom, Sarah Connell, MD, a neuro-otologist with the Kaiser Permanente Woodland Hills Medical Center.
"She suggested getting a reclining chair for John since lying down flat would be uncomfortable for a while after the surgery. She talked about a pain regimen where we alternated acetaminophen and ibuprofen … so the pain never got out of control …,' Dr. Connell said. "Just getting so much information from her in advance, down to the most minute details, gave me the confidence that bringing him home the same day was going to be OK."
Dr. Connell praised the entire team involved with the procedure from Rodriguez, to the anesthesiologists, the surgeons, and the physical therapists.
"It took a village for this to be successful," she said.
A new standard of care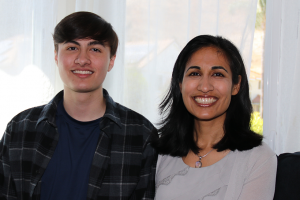 Andrew Rudikoff, MD, a pediatric anesthesiologist at Kaiser Permanente Los Angeles Medical Center and a co-author on both studies, noted: "Our system fosters collaboration between the departments of pediatric surgery, pediatric anesthesia, perioperative nursing, physical therapy, and pharmacy, and enables us to get the best outcome possible."
Other health care organizations are already integrating the new pain management protocol into their own systems.
"Ten years ago, the idea of same-day discharge after Nuss surgery would have been laughable," Dr. Rettig said. "Now, it's becoming the new standard of care."
John's life has improved since surgery
Since his surgery in July 2020, John has taken up weightlifting to build strength, and has improved his flute playing. John plays with his high school wind ensemble and the Conejo Valley Youth Orchestra as well as in his family's band, which plays for fun.
"The biggest change for me has been my flute playing," John said. "My teacher and I have worked on increasing my lung capacity, and I've been able to increase the amount of time I can hold a note by about 10 seconds, which is really significant."
The surgery had psychological benefits as well for John, who expects to pursue a career in medicine or computer science. He said he learned a lot going through the experience.
"Just because you are scared of something doesn't mean you shouldn't try it," he said. "Through this process, I learned I can go through difficult things. It has given me a lot more self-confidence. It's OK to try things that you are uncomfortable with, because even if it hurts a little bit the benefits often can outweigh the risks."
Images: John Connell playing with his family's band (from left to right: dad John Joseph Connell Sr., brother Christopher Connell, mom Dr. Sarah Connell, and John), John at his computer, and John with his mom, Dr. Connell.