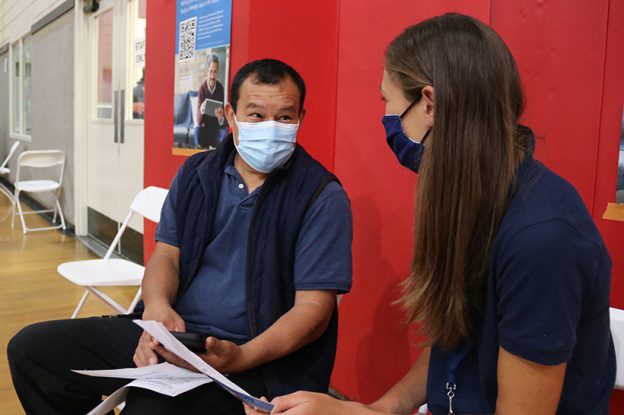 New Kaiser Permanente COVID-19 Vaccine Side Effect Monitoring System launches
A pilot of a new Kaiser Permanente COVID-19 Vaccine Side Effect Monitoring System kicked off in late April, starting with the Kaiser Permanente Baldwin Park and Los Angeles medical centers. It will expand to the rest of Southern California in the coming weeks.
Adults ages 18 years and older who receive vaccines through Kaiser Permanente will be invited to participate. Vaccinated individuals who opt in will receive regular survey questions about possible side effects through their kp.org message center, text message or e-mail.
"The responses we collect will help researchers and public health officials monitor COVID-19 reactions on a timely basis," said Sara Tartof, PhD, MPH, an infectious disease epidemiologist with the Department of Research & Evaluation and one of the principal investigators for the study.  
System results from long-standing research partnership
The new system is being developed through the Vaccine Safety Datalink, a long-standing research partnership with the Centers for Disease Control and Prevention. It has important advantages over similar systems, including the CDC's own recently launched "v-safe" monitor.
"The real advantage of KP Side Effect Monitor is that it gives Kaiser Permanente researchers the ability to link  participants' answers to information in their clinical records," said Debbie Malden, DPhil, MSc, a CDC Epidemic Intelligence Service officer based at Kaiser Permanente in Southern California and co-principal investigator for the pilot study.
Linking demographic and clinical information from health records to the survey will help researchers gain insights on important questions, including who is most at risk for certain types of side effects.
Team focused on ease of use
A team of researchers, clinicians, IT personnel, legal teams, and marketing professionals collaborated to build a digital tool that would be easy to use. They will continue to refine the tool during the pilot.
Patients do not need a smartphone or email address to participate. They can choose to participate via text, which is easy to use and tends to get high response rates. The survey tool will also be available in English, Spanish, and eventually Mandarin.
Anything that makes it a little bit easier for patients to report their side effects will help engage their participation," said Debra Brown, RN, department administrator for the Kaiser Permanente Hollywood Romaine Medical Offices. "Having the survey in different languages will make it possible for more people to share their experiences."
Insights on side effects seen as crucial to success of vaccine rollout
Clinicians are hopeful that gathering timely information on side effects will aid the rollout of the new COVID-19 vaccines.
"Collecting real-time safety data on these new COVID-19 vaccines is essential to the success of the rollout of vaccines and will help to address the concerns of those who are hesitant to get vaccinated," explains Margaret Khoury, MD, chief of pediatrics for the Kaiser Permanente Baldwin Park Medical Center and physician lead for the local COVID-19 vaccine team.
The team aims to roll the system out to other regions over the summer. Preliminary results from the study are expected by the third quarter of 2021.