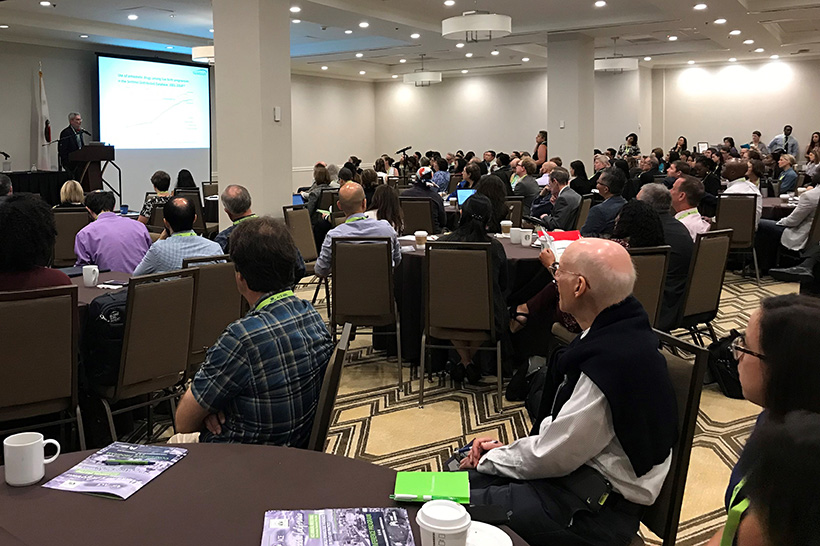 National ACE conference draws health researchers to Pasadena
At A Glance
More than 275 people attended the 2019 American College of Epidemiology Annual Meeting.
The meeting was hosted by the Kaiser Permanente Southern California Department of Research & Evaluation in Pasadena, Calif.
The theme of the meeting was "Real-World Epidemiologic Evidence in Policy and Practice."
Speakers gave epidemiologists the tools and inspiration to turn data into research with an impact on clinical practice during the 2019 American College of Epidemiology Annual Meeting, which was hosted by Kaiser Permanente Southern California Department of Research & Evaluation.
"The conference was a great success," said Russell S. Kirby, PhD, MS, of the College of Public Health, University of South Florida, and outgoing ACE president.  "We had a large registration compared to recent years, attracted a number of students and young professionals, and I could see conversations stimulated by session content going on in the halls and foyers in between sessions."
Four-day conference tackles real-world issues
The conference, titled "Real-World Epidemiologic Evidence in Policy and Practice," was held in early September at the Hilton Pasadena in Pasadena, California. More than 275 people attended, making it one of the best attended conferences in the organization's history.
"What we wanted was to get participants to thinking beyond just getting that grant and publishing that paper," said Steven J. Jacobsen, MD, PhD, senior director of Research for Kaiser Permanente Southern California. "We really wanted to promote the relevance of research to public policy and clinical practice."
(During the conference, Dr. Jacobsen was elected by his peers to president-elect of ACE.)
Conference Program Chair Annette Adams, PhD, a Research & Evaluation scientist, said she felt the theme was a big draw.
"A focus on real-world evidence is very timely as regulatory agencies are recognizing the utility of real-world data sources and pragmatic trials for addressing relevant questions," she said.
The first day of the pre-conference was devoted to the Minority Affairs Workshop. The second day opened with a board of directors meeting followed by education workshops including "Implementation Science," moderated by Brian Mittman, PhD, and a talk by Corrine Muñoz-Plaza, MPH, on "Integrating Qualitative Approaches into Mixed Methods Research."
A job fair and a speed networking event rounded out the afternoon.
Keynote address focuses on learning health care systems
The conference opened Monday with a welcome from Dr. Jacobsen and Dr. Adams, followed by the keynote address on "Real-World Evidence and the Learning Health System: Old Wine or New?" by Richard Platt, MD, MSc, professor and chair of the Department of Population Medicine at Harvard Medical School.
Dr. Platt gave advice for generating real-world evidence for researchers who aren't embedded in a health care system such as Kaiser Permanente's. He suggested establishing durable partnerships of mutual interest and building data systems that can be used for a learning health care environment.
Sessions that followed covered many issues epidemiologists must consider, such as politics and trust, social determinants of health, design considerations for vaccine safety studies, and how to get prediction models put into clinical practice. The top 3 abstracts submitted to the meeting were selected for podium presentations and a poster session featured more than 60 other studies.
Awards given to outstanding epidemiologists
At a reception at the California Institute of Technology Athenaeum that evening, several awards were given, including the Lilienfeld Award, the organization's most prestigious award, to Steven Goodman, MD, MHS, PhD, of Stanford Medicine for his work that has expanded the understanding of scientific and statistical inference.
The final day of sessions concluded with a keynote luncheon presented by Anne Schuchat, MD, the principal deputy director of Centers for Disease Control and Prevention, who used specific examples such as measles outbreaks, HPV vaccination rates, and HIV prevention to drive home the importance of epidemiologic studies in shaping policy.
Dr. Kirby said the talks by Dr. Schuchat and Dr. Platt were highlights of the conference.
"Both provided new information and perspectives and integrated their work with broad undercurrents in the field of epidemiology today," Dr. Kirby said.
Research & Evaluation scientists and staff organized and spoke at conference
Todd Choi, MPH, was the conference manager. Department scientists and staff conducted workshops and poster presentations. Among those who presented were
Speakers: Karen Coleman, PhD, MS; Michael Gould, MD, MS; Steven Jacobsen, MD, PhD; Jean Lawrence ScD, MPH, MSSA; Brian Mittman, PhD; Corrine Muñoz-Plaza, MPH; Adam Sharp, MD, MSc
Career panelists: Jean Lawrence, ScD, MPH, MSSA; Sara Tartof, PhD, MPH
Poster presentations: Denison Ryan, MPH; Tracy Becerra-Culqui, PhD, MPH, OTR/L; Katia Bruxvoort, PhD, MPH; Chun Chao, PhD; Bernadine Dizon, MPH; Sunhea (Sylvia) Kim, MPH; Cathy Ngo, MPH
Additionally, volunteers from the Department's Division of Epidemiology and Shared Services helped with conference logistics, and Dr. Adams' daughter, Ruthie, volunteered at the conference welcome table.