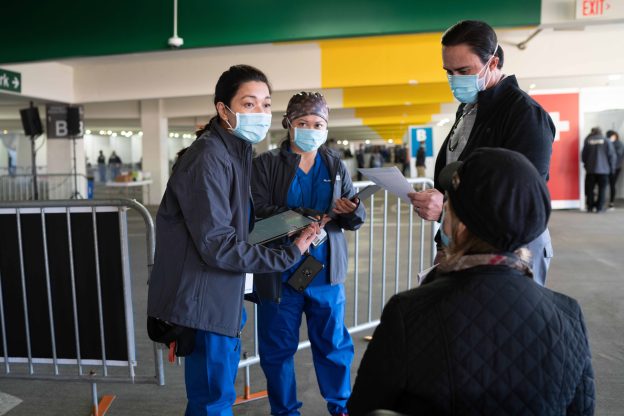 KPSC teams with Moderna, Pfizer-BioNTech to assess real-world effectiveness of COVID-19 vaccines
Researchers from Kaiser Permanente Southern California are collaborating with Moderna and Pfizer-BioNTech, the makers of the 2 first authorized COVID-19 vaccines, to study their vaccines' effectiveness in real-world settings in preventing the disease and reducing its severity. Questions these studies will evaluate range from how long protection lasts to how well vaccines perform against variants of SARS-CoV-2.
"In clinical trials, the vaccines were remarkably effective in preventing symptomatic infection," said Brad Ackerson, MD, an infectious disease pediatrician and co-investigator on the Moderna and Pfizer-BioNTech effectiveness studies. "But clinical trials are much more controlled, and many questions remain about how well the vaccines perform in real-world conditions."
Clinical trials protocols required 2 doses for the Moderna and Pfizer-BioNTech vaccines to be given at 28- and 21-day intervals, respectively, to all participants. Cold chain requirements for transport and storage were strictly followed. In the real-word, conditions may not be as perfect, which could have an impact on effectiveness.
"The time frame for these clinical trials was also very short at the time of emergency use authorization because the pre-specified success criteria for efficacy were met quickly in an interim analysis," said Dr. Ackerson. "To understand how long protection lasts, we need to study how these vaccines perform over a longer time frame."
KPSC has long track record in post-licensure vaccine research
KPSC has been active in post-licensure vaccine research for more than 3 decades and is now well-positioned to study COVID-19 vaccines post-authorization. Investigators from the Department of Research & Evaluation frequently partner with clinicians, public health officials, and vaccine manufacturers to study the effectiveness of vaccines in real world studies.
"Effectiveness studies conducted in real-world conditions can answer many of the unanswered questions from clinical trials," said Hung Fu Tseng, PhD, a senior scientist with R&E and principal investigator of the Moderna study. "This is vital during the global COVID-19 pandemic. The whole world needs to know how well these vaccines protect us and for how long, based on evaluations from real world settings."
Researchers will examine how well both vaccines prevent COVID-19 diagnosis and severe COVID-19 disease, looking at outcomes like emergency department visits, hospitalization, or intensive care. They will also assess how long the vaccines protect people.
"The efficacy from the clinical trials is based on 2 doses," said Lina Sy, MPH, scientific program manager for Kaiser Permanente Southern California's vaccine research program. "Although that's what is recommended, we know from experience with other multiple-dose vaccines that some people may not complete both doses. If that happens with the COVID-19 vaccines, we need to understand how well a single dose protects people."
Given the size of our populations, researchers will also be able to look at differences in how well the vaccines protect people of different age groups, sexes, races, and ethnicities, as well as people with underlying medical conditions. Additionally, the studies can look at how well the vaccines perform against different variants.
Partnership with lab key to studying variants in KPSC population
The same questions that researchers have about the vaccines' effectiveness against the original strain of COVID-19 also need to be evaluated for the new and emerging variants.
"One of the most exciting things about these studies is that we can look at how the vaccines perform against different variants," said Sara Tartof, PhD, MPH, an infectious disease epidemiologist with R&E and principal investigator of the Pfizer-BioNTech study. "Our integrated system puts us in a unique position to do this kind of research, with the support of our amazing collaborators at the lab."
Kaiser Permanente Southern California does not routinely send specimens from positive COVID-19 tests to be sequenced to determine which variant caused the disease. That's where partners at the Regional Reference Laboratories at Sherman Way and Chino Hills have played a critical role.
The regional labs will divert swabs and saliva samples collected through routine testing, which otherwise would have been discarded, to the Research & Evaluation research lab team. The lab team will freeze the samples and send them to specialized laboratories for sequencing.
"What our lab partners are doing will make it possible for us to identify the variants that are circulating in our population and understand how that changes over time," said Katia Bruxvoort, PhD, MPH, a Research & Evaluation post-doctoral research fellow who helps to lead variant research and works closely with the lab on the strategy. "It will also allow us to answer other important questions about how effective the vaccines are in protecting our vaccinated population against different strains of the virus."
Results from the vaccine effectiveness studies will be available starting in the third quarter of 2021. Findings will be submitted for publication in peer reviewed scientific journals and shared with Southern California Permanente Medical Group physicians and others in Kaiser Permanente Southern California through our internal communication channels.