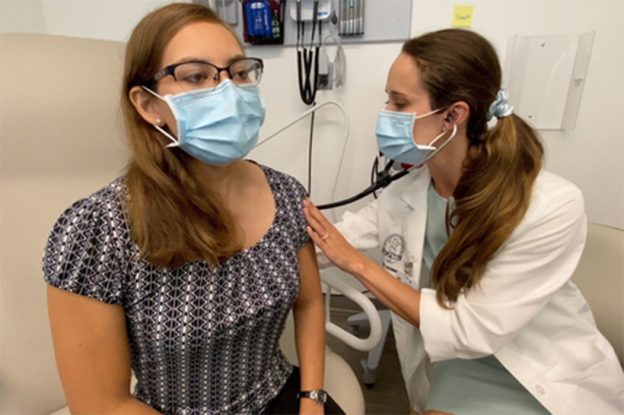 Hospitalized or not, COVID-19 patients put high demands on health system
A study of Kaiser Permanente Southern California members diagnosed with COVID-19 found that they had frequent health care visits during the month after their diagnosis—whether or not they stayed overnight in the hospital.
As reported in the Journal of General Internal Medicine, the average number of visits over 30 days was nearly 7 for patients who were not hospitalized for COVID-19 and about 12 for those whose visits included a hospital stay. Most visits were virtual telehealth appointments for COVID-related or respiratory-related reasons.
"I was really shocked to see how high these numbers of visits were," said the study's senior author, Adam L. Sharp, MD, MSc, an emergency medicine physician and a researcher with the Kaiser Permanente Southern California Department of Research & Evaluation.
"From what my colleagues and I have experienced in the emergency department and outpatient clinics, we knew visits would be high, but they were far higher than we've seen in the past for other illnesses, including the flu," Dr. Sharp said.
This study highlights that, even if a person does not get severely ill from COVID-19, it is very possible that the infection may leave them with substantial health care needs.
Health systems can use these findings to help inform plans to optimize resources and care as the world continues to deal with the pandemic.
Looking beyond hospitals
Prior to this analysis, widely reported data had already underscored the high demands that COVID-19 places on hospital resources. However, while the pandemic also strains outpatient and emergency departments, far less has been reported on the extent of these types of visits.
"We wanted to better understand and describe what's happening throughout the health system as a result of COVID-19," said the study's lead author, Brian Huang, PhD, MPH, a biostatistician with the Department of Research & Evaluation.
To do so, the research team assessed electronic medical records of 64,011 Kaiser Permanente Southern California members who had been diagnosed with COVID-19 from March through September 2020. They applied statistical analyses to see how these patients used health care resources in the 180 days after their diagnosis.
On average, patients had a high number of health care visits in the 30 days after their diagnosis, and visits decreased over time. Patients who were not hospitalized had an average of 6.6 visits in the first 30 days, while those whose visits included a hospital stay had an average of 12.3 total visits. These included visits to emergency departments, hospital stays, and outpatient visits, such as telehealth visits with primary care doctors.
Most of the visits were for COVID-related symptoms or diagnoses, or for respiratory conditions. People who were severely obese or age 65 or older had significantly more visits than other patients.
"These numbers back up global observations that this pandemic has burst the seams of medical systems," Dr. Sharp said. "Before the pandemic, outpatient clinics were already very busy, so this just illustrates the huge extra burden of COVID-19."
Telehealth takes center stage
The underlying reasons for the high number of visits uncovered in this analysis remain to be determined.
"It could be that all of these appointments were indeed medically necessary," Dr. Sharp said. "Or, perhaps some of the visits occurred because of how worrisome this pandemic is, and patients or clinicians wanted to check in more than they usually would in other contexts."
Notably, the analysis also showed that most visits in the 30 days after diagnosis were virtual telehealth visits. "The convenience and ease of telehealth appointments could also have contributed to people scheduling more visits," Dr. Huang said.
Among patients who were not hospitalized, Hispanic and non-white patients had a higher number of visits than white patients, while among patients who were hospitalized for COVID-19 there were no racial or ethnic differences in visit rates after they were released from the hospital.
"This supports the idea that, in an integrated health system, the availability of telehealth could help mitigate disparities in health care by enabling better access for people who otherwise might not be able to come in for a visit," Dr. Huang said.
Looking ahead, the trends uncovered in this study could help Kaiser Permanente and other health systems better meet patients' needs as the pandemic continues, as well as plan for the possibility of similar events in the future.
The researchers also noted that it will be important to dig deeper into the use of telehealth after a COVID-19 diagnosis and identify when telehealth is beneficial versus when patients might be better served by in-person visits.
"This is just the beginning of our understanding of the role of telehealth in COVID-19 care," Dr. Sharp said.
For a study specifically on virtual care during the pandemic, see the story "Vulnerable populations sought virtual care during pandemic" on the Department of Research & Evaluation's website. The story is based on a study published in September 2021 in the Journal of Medical Internet Research. 
 In addition to Dr. Sharp and Dr. Huang, coauthors on the research included Beth Creekmur, MA, of the Department of Research & Evaluation; Michael S. Yoo, MD, Kaiser Permanente Santa Rosa Medical Center; Benjamin Broder, MD, PhD, Kaiser Permanente Baldwin Park Medical Center; Christopher Subject, MD, Kaiser Permanente Los Angeles Medical Center.