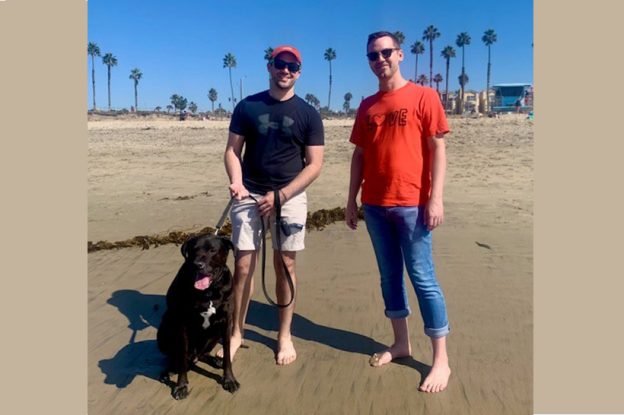 Five questions for … Dr. Matthew Mefford
Matthew Mefford, PhD, is a cardiovascular disease epidemiologist and research scientist in the Kaiser Permanente Southern California Department of Research & Evaluation. His research interests include heart failure, cardiovascular disease disparities, risk factors and outcomes, and the intersection of chronic disease and infectious diseases. He also maintains a broad focus on applying epidemiologic methods to answer research questions. He came to R&E as a postdoctoral research fellow in 2019. This year, he was hired on as a research scientist.
Please tell us a little about your background and why you joined R&E.
I am a Southerner at heart, with most of my family in Kentucky and surrounding states. I received my master's degree in epidemiology from the University of Louisville and then moved deeper south to receive my PhD in epidemiology from the University of Alabama at Birmingham. Shortly before graduating, I was connected to R&E by an adjunct investigator in the department who encouraged me to apply for one of the post-doc appointments. I'm very grateful for the opportunity work with so many wonderful scientists and staff. I've received invaluable mentoring and training in how to answer timely cardiovascular disease research questions using electronic health records, where our findings have the potential to improve patient care.
You have published some high-profile research since joining R&E, including some about heart attacks and elections. Tell us about that.
Triggers of stress including natural disasters, war, terror attacks, and even sporting events, can increase someone's heart attack risk in the days following the event. Given that the political climate had become increasingly divisive leading up to the 2016 election, we felt it was important to understand the effect of election stress on body. For this study, we looked at hospitalizations for heart attack and stroke around the 2016 presidential election. In the 2 days following the 2016 election, we observed the rate of heart attack or stroke was 62% higher than the same 2 days in the week before the election. Our main takeaway was that there is a potential connection between political stress and cardiovascular health. Health care providers should be aware of this to guide their patients toward healthy outlets for stress reduction—things like practicing mindfulness, meditation, yoga, or engaging in healthy activities like going for a bike ride all have positive benefits. Another research study, which is currently being considered for publication, looks at some of the same issues in regard to the 2020 election.
Recently, you published a paper on heart attacks during the COVID-19 pandemic.  What was the takeaway there?
At the beginning of the pandemic when stay-at-home orders were newly put in place, there was a concern that people might not come to the hospital when they are having life-threatening health emergencies due to fears of COVID-19 infection. For this study we looked at hospitalizations for heart attack during 2020—before and after stay-at-home orders were implemented—and compared this to hospitalizations in 2019. We found that from January to early March, heart attack rates in 2020 and 2019 were similar. After March 2020, however, heart attack rates dropped 15% compared to what was observed in 2019. The main takeaway here is that it's critical for people to get the care they need for medical emergencies, even during public health crises. This study showed that the don't always do that. Delaying care can lead to long-lasting complications or worse outcomes.
What inspired your interest in heart disease, and what do you expect to delve into next?
My interest in heart disease spurred by the recognition that it poses a major public health burden. Heart disease is the leading cause of death in the United States among men and women, one of largest contributors to health care costs and spending, and heart health is something that intersects with so many facets of our lives. Conducting research in KPSC, where patient care is linked throughout the region, gives us the unique opportunity to look at patients' health over a long period of time to understand contributors to heart disease. I also focus on heart failure, a condition where the heart is unable to pump blood well enough to keep the rest of the body supplied with oxygen-rich blood. This condition has a poor life expectancy despite many effective ways to treat and manage it. I'm interested in exploring how heart failure that worsens over time is managed both in and out of the hospital and with varying treatment regimens. The goal is to find optimal approaches to help patients manage this incredibly debilitating chronic condition.
When you are not at work, how do you like to spend your spare time?
When I'm not at work, I love spending time with my partner Luke Jacobs, an arts administrator, and our 2 pets—Finn (dog) and Jeoffry (cat). I enjoy playing tennis, hiking, riding my bike, and going to the beach. When I'm home, I love reading a good book or cooking. I love taking old family recipes and putting my own twist on them!
Image: Dr. Mefford, his partner Luke Jacobs, and their dog, Finn, at the Huntington Dog Beach, Huntington Beach, Calif.