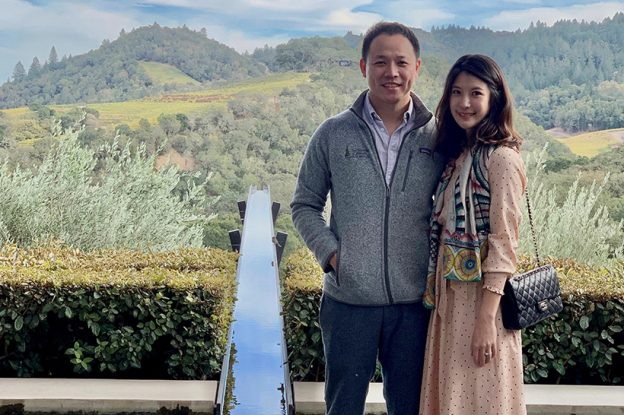 Five questions for … Dr. "Charlie" Huang
Cheng-Wei "Charlie" Huang, MD, is a hospitalist at the Kaiser Permanente Los Angeles Medical Center who has spent recent years also focused on research that can improve care for patients. In addition to his research and clinical duties, Dr. Huang is the assistant program director of the  Los Angeles Medical Center's internal medicine residency, where he primarily oversees scholarly activities for the residents. He also is an assistant clinical professor for the Kaiser Permanente Bernard J. Tyson School of Medicine. He graduated from University of California, Berkeley with a bachelor's degree in molecular cell biology and earned his medical degree from the University of Vermont College of Medicine. He did an internship and his residency at Los Angeles Medical Center.
Please tell us a little about your background and why you are interested in doing research as a physician.
It's funny that I get asked this now because when I was in medical school, I never thought I would do research as part of my career. I really started out doing scholarly activities begrudgingly with my dad, a brilliant neurosurgeon in Taiwan, out of a sense of obligation to assist with writing as he would sometimes struggle with transcribing his thoughts to words, being a non-native English speaker. In residency, I was introduced to more data-driven research when I met Dr. John Sim, our area research chair at Los Angeles Medical Center, who took me on a project examining the association between hypothyroidism and chronic kidney disease. It was probably then that I became hooked on how research can help inform our practice. It is an incredibly fulfilling and gratifying experience to be able to help answer some of the questions that arise from our day-to-day clinical practice.
You have recently led a study on dexamethasone and hospital readmissions that was published in a JAMA Network Open and has gotten some media attention. Tell us about the most important takeaways from that work and what led you to this discovery.
We strive to use evidence-based medicine for our patients. Dexamethasone was the first therapy to show a convincing mortality benefit for COVID-19 patients. Despite rapid research that led to this discovery, huge gaps in knowledge with its use remained. My team and I saw an opportunity to leverage the wealth of data we have here at Kaiser Permanente and help answer a clinical question on whether to continue dexamethasone use for COVID-19 patients after they are discharged from the hospital.  We found that continuation of dexamethasone at discharge was not associated with a reduction in readmission or mortality within 14 days after discharge. Taken together with the guidelines, this would suggest that dexamethasone should not be routinely prescribed for COVID-19 patients leaving the hospital.
What other studies have you worked on, or are you working on now, that broaden our knowledge of COVID-19?
In addition to looking at dexamethasone, I've also looked at characteristics of readmissions after COVID-19 hospitalization and patient-specific factors associated with readmissions or mortality after discharge. Earlier in the pandemic, I was also a site principal investigator for the COVID-19 convalescent plasma trial for Mayo Clinic to give our patients the best chance and access to this experimental treatment.  I've also had the chance to collaborate with my mentor, Dr. Sim, on a few projects looking at outcomes as well as remdesivir use among dialysis patients with COVID-19. Lastly, I've worked with clinicians at other medical centers and reported some of the first cases of multisystem inflammatory syndrome in adults after COVID-19 infection and vaccination seen in the country.
What do you do in your day-to-day job, and how do you find time to do research?
I'm a hospitalist, which means I take care of adult patients who are acutely ill and hospitalized. I am also the assistant program director of the internal medicine residency at Los Angeles Medical Center, and primarily oversee scholarly activities for our residents. The schedule of a hospitalist is a little unpredictable and includes evenings, weekends, and nights. However, it is also this shift work schedule that allows me to squeeze in research activities when I have consecutive days off or when there is downtime. Also, getting the chance to work with residents is really a gratifying experience and makes the busy schedule that much more worthwhile.
When you are not at work, how do you like to spend your spare time?
Outside of work you can find me with my wife, Kaiya, and our dog, Noodle. We've done a lot of road trips in California during the pandemic, and absolutely love Napa. In LA, you can find us trying out restaurants, on hiking trails, or just hanging out with our friends and family.
Photo: Dr. Huang and his wife in Napa.