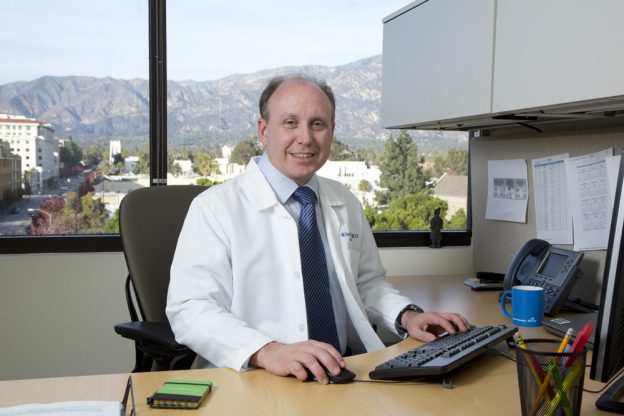 Dr. William Towner named 2022 SCPMG Physician Researcher of the Year
William J. Towner, MD, FACP, FIDSA, physician director of the Kaiser Permanente Southern California Clinical Trials Program, has been named the 2022 Southern California Permanente Medical Group Physician Researcher of the Year. The award has been given each year since 2007 to recognize a physician or surgeon for his or her outstanding contributions to the research community.
As physician director of clinical trials, Dr. Towner leads an active research division of more than 90 SCPMG principal investigators who conduct approximately 450 clinical trials in more than 30 therapeutic areas. He has personally served as the principal investigator of more than 180 clinical trials in infectious diseases, including those for HIV, hepatitis C, and COVID-19, and has authored over 70 Medline-indexed journal articles.
Dr. Towner is a graduate of UCLA and the Keck School of Medicine at USC. He holds faculty appointments as an associate professor of Clinical Sciences at the Kaiser Permanente Bernard J. Tyson School of Medicine and at the David Geffen School of Medicine at UCLA, where he is an assistant clinical professor.
Among his recent national leadership roles, he has served on the board of directors for the HIV Medicine Association of the Infectious Disease Society of America. He has been awarded Fellowships from both the American College of Physicians and the Infectious Disease Society of America, and maintains an active clinical practice devoted to the care of HIV-affected patients at the Kaiser Permanente Los Angeles Medical Center.
Recent research contributions
Two of Dr. Towner's recent studies helped advance treatment for patients with COVID-19 and improve identification of people at risk of HIV infection.
Early in the COVID-19 pandemic, a Kaiser Permanente Southern California team enrolled 597 patients hospitalized with severe COVID-19 pneumonia in a multi-center, Phase 3 clinical trial for the antiviral medication remdesivir. Patients were randomly assigned to receive remdesivir intravenously for either 5 or 10 days, then assessed after 14 days. The trial, which included more than 150 medical facilities worldwide, showed that there was no significant difference in efficacy between the patients who received the 5-day course versus those who received the 10-day course. Kaiser Permanente Southern California was one of the largest enrollers in the trial.
The other study examined the real-world effectiveness of using an electronic clinician alert on same-day HIV testing rates and early diagnosis in high-risk populations. The study population included more than 1.8 million Kaiser Permanente Southern California members ages 14 years or older who received tests for sexually transmitted infections. The study found that embedding a targeted electronic alert in members' electronic medical records improved the same-day HIV screening rate and positive test result rates among patients who were receiving tests for sexually transmitted infections. The study showed the intervention has the potential for facilitating frequent screening and early identification of people at high risk of HIV infection.
A dedicated and collegial colleague
"Dr. Towner's collegiality and ability to work with everyone around him makes him a beloved member of the Kaiser Permanente Southern California community," said Los Angeles Medical Center Area Research Chair John J. Sim, MD, who nominated Dr. Towner for the award.
"He is an enthusiastic teacher and very dedicated to the Internal Medicine Residency program as well as all of the house staff from the different training programs at the Los Angeles Medical Center," Dr. Sim added. "He embraces and willingly mentors everyone who comes to him for help. I am proud to be his colleague and feel that he is truly deserving of this recognition and award."
"I know there are many talented researchers at Kaiser Permanente Southern California, and I am humbled to receive this award," Dr. Towner said. "It's been extremely gratifying to contribute to our medical group's research program over the years. Professionally, I feel fortunate to be able to contribute to the advancement of science, help our members, and support my colleagues who are pursuing their own research goals."
"I would encourage anyone at Kaiser Permanente Southern California interested in conducting clinical research to follow their passion," he added. "It can be a source of great career satisfaction."