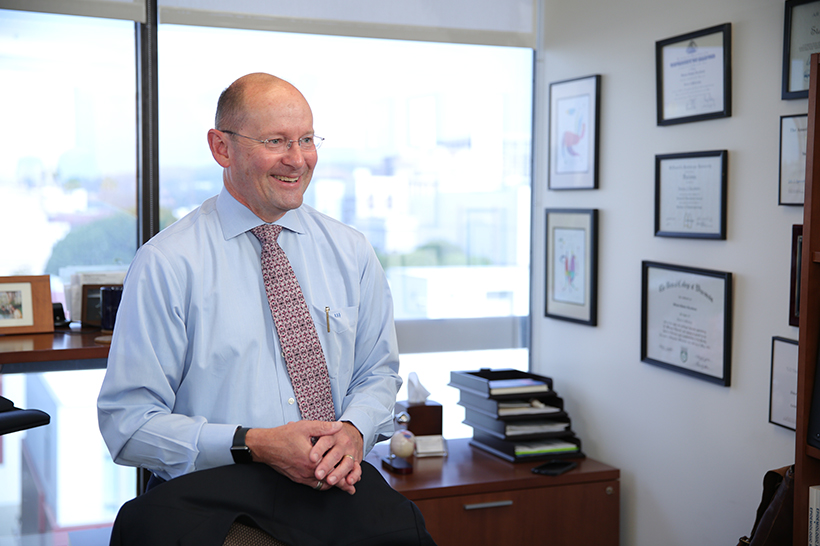 Dr. Steven Jacobsen of Kaiser Permanente elected president-elect of the American College of Epidemiology
The Senior Director of Research for Kaiser Permanente Southern California, Steven J. Jacobsen, MD, PhD, has been elected by his peers to the office of president-elect of the American College of Epidemiology (ACE) for the 2020 membership year. He will assume the College's presidency in 2021.
The election results were announced today (Sept. 10, 2019) at the ACE Annual Meeting at the Pasadena Hilton in Pasadena, California. ACE is a credential-based organization of epidemiologists dedicated to continued education and advocacy for epidemiologists in their efforts to promote good science and the public health.
This year's annual ACE conference is being hosted by the Kaiser Permanente Southern California Department of Research & Evaluation, which Dr. Jacobsen leads. Today was the last day of the four-day conference focused on "Real-World Epidemiologic Evidence in Policy and Practice." More than 250 people attended, which is one of the highest levels of attendance for an ACE annual conference.
"ACE was founded in 1979 to develop criteria for professional recognition of epidemiologists and to provide a voice for the discipline of epidemiology. The College has benefited from the leadership of the leading epidemiologists in the world, including dedicated professionals like Steve Jacobsen," stated Dr. Russell Kirby, president of the American College of Epidemiology. "The College is very fortunate to have Steve to lead ACE into the future."
Dr. Jacobsen said he is honored to be elected to this national leadership position, because it allows him to share his passion for the impact that epidemiology can have on health care practice and policy, and how it reflects on Kaiser Permanente's preeminence in the field.
"As epidemiologists our charge is to inform public health and health care with evidence that can't be found through randomized trials or other means," Dr. Jacobsen said.  "ACE is an organization with membership that goes far beyond the traditional academic world of epidemiology and really speaks to the practice of medicine and the formation of public policy."
Dr. Jacobsen directs the research programs for Kaiser Permanente Southern California and the Department of Research & Evaluation, which has more than 30 faculty in epidemiology, health services, and related research. The Department of Research & Evaluation is 1 of 8 Kaiser Permanente regional research centers and 1 national research center that serve 12.3 million Kaiser Permanente members.
"Each region has a dedicated research shop to address important questions about etiology, outcomes, treatment, and quality of life for those seeking health care," he said. "We learn from our research and apply those findings in practice to improve care for members. We also share what we discover by publishing our findings in order to improve public health across the globe. This passion we have inside of Kaiser Permanente will help us inspire epidemiologists across the nation."
Dr. Jacobsen serves as site principal investigator for the Vaccine Safety Datalink, funded by the Centers for Disease Control and Prevention, and has directed several large-scale, post-licensure safety studies mandated by the U.S. Food and Drug Administration. Before joining Kaiser Permanente, he was professor and chair of the Division of Epidemiology for the Mayo Clinic College of Medicine.
Dr. Jacobsen is a chronic disease epidemiologist with a long-standing interest in men's urologic health, cardiovascular disease, and vaccine research. He has a long track record of extramurally funded research and has authored or coauthored more than 500 papers in the peer-reviewed literature. He serves on 4 editorial boards for peer-reviewed journals and has served on numerous National Institutes of Health study sections and advisory panels.
Dr. Jacobsen has long been active in ACE. He joined over 25 years ago and was promoted to fellow in 1997. He is currently serving his second term as a director on the Board of Directors. He has served on a number of committees including the Program Committee and the Awards Committee, which he chaired in 2018.
"The College is embarking on a strategic plan so I'm looking forward to working with fellow officers, board members, and the executive director at defining that strategy and carrying it out," he said. "The first year will be asking the critical questions about what we want to be as an organization, and where we want to go, and then implementing it in the subsequent years."
During his leadership year, he hopes to foster excitement about doing research that leads to changes in public health and medical practice.
"As epidemiologists, we can make a different in people's lives," Dr. Jacobsen said. "That is what fuels my passion for the field. That is the passion I will share with ACE."
Dr. Jacobsen has his medical degree from Medical College of Wisconsin, Milwaukee, Wisconsin; his doctorate in Public Health Sciences (Epidemiology) from the University of Illinois, Chicago, School of Public Health, Chicago, Illinois; and his master of science in Biostatistics from the Medical College of Wisconsin in Milwaukee.
For more information about ACE, visit their website.
About the Kaiser Permanente Southern California Department of Research & Evaluation
The Department of Research & Evaluation conducts high-quality, innovative research into disease etiology, prevention, treatment and care delivery. Investigators conduct epidemiologic research, health services research, biostatistics research, and behavioral research as well as clinical trials. Major areas of study include chronic disease, infectious disease, cancer, drug safety and effectiveness, and maternal and child health. Headquartered in Pasadena, California, the department focuses on translating research to practice quickly to benefit the health and lives of Kaiser Permanente Southern California members and the general public. Visit kp.org/research.
About Kaiser Permanente
Kaiser Permanente is committed to helping shape the future of health care. We are recognized as one of America's leading health care providers and not-for-profit health plans. Founded in 1945, Kaiser Permanente has a mission to provide high-quality, affordable health care services and to improve the health of our members and the communities we serve. We currently serve more than 11.7 million members in eight states and the District of Columbia. Care for members and patients is focused on their total health and guided by their personal Permanente Medical Group physicians, specialists and team of caregivers. Our expert and caring medical teams are empowered and supported by industry-leading technology advances and tools for health promotion, disease prevention, state-of-the-art care delivery and world-class chronic disease management. Kaiser Permanente is dedicated to care innovations, clinical research, health education and the support of community health. For more information, go to: kp.org/share.
About ACE
The American College of Epidemiology (ACE) is an organization of Epidemiologists that serves the interests of the profession and its members through advocating for issues pertinent to epidemiology, a credential-based admission and promotion process, sponsorship of scientific meetings, publications and educational activities, and recognizing outstanding contributions to the field.