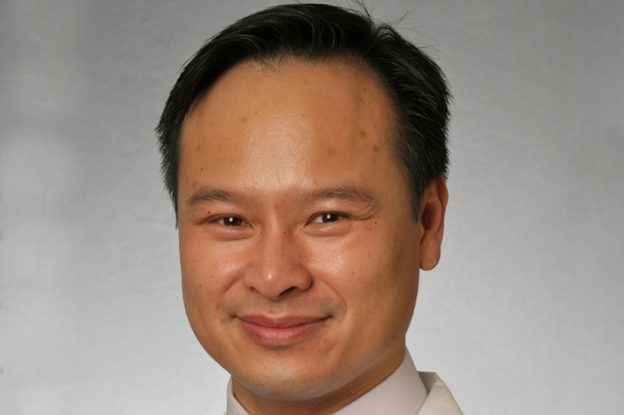 Dr. Nguyen named 2021 Physician Researcher of the Year
John K. Nguyen, MD, an obstetrician and gynecologist at Kaiser Permanente Downey Medical Center, has been named the 2021 Southern California Permanente Medical Group Physician Researcher of the Year. The award has been given each year since 2007 to recognize a physician or surgeon for his or her outstanding contributions to the research community.
Dr. Nguyen is the director of Female Pelvic Medicine and Reconstructive Surgery at Downey Medical Center. He is also the site director for the Kaiser Permanente Downey sub-site of the University of California, San Diego Pelvic Floor Disorders Network and the site director for the Harbor-UCLA Female Pelvic Medicine and Reconstructive Surgery fellowship program.
He serves as a reviewer for several leading journals, including the International Urogynecology Journal & Pelvic Floor Dysfunction, the American Journal of Obstetrics & Gynecology and Female Pelvic Medicine & Reconstructive Surgery.
Recent research contributions
Dr. Nguyen's recent research builds upon his previous work to improve the quality of women's health care. With funding he received from the Regional Research Committee, he led a study in June 2020 to compare the performance of a generic posterior tibial neurostimulator used to treat female urinary incontinence with a brand-name stimulator. The study's findings showed that the generic stimulator performed as well as the brand-name device, but at a much lower cost.  
He also participated in a multicenter, randomized trial in 2019 that showed there was no significant improvement in outcomes for women who underwent surgery and pelvic floor therapy for mixed urinary incontinence versus those who just had surgery. The study revealed there was not a need for patients to complete pelvic floor therapy, which simplified care needed after surgery and potentially saved costs.
Excelling at research and clinical care
"It's always hard to single one person out for an award like this, but I believe Dr. Nguyen is especially deserving," said Eugene Chu, MD, area research chair for Downey Medical Center, who submitted the nomination. "In academics, faculty are judged on the 3 pillars of education, research, and clinical care.  Remarkably, Dr. Nguyen has excelled at all 3.
"On the research front, he continues to train fellows in his role as a study site director," Dr. Chu added. "Dr. Nguyen has also been a consistent contributor to peer-reviewed journals, with over 30 publications to his credit. His work as both a researcher and a clinician has had a positive impact on the health and lives of many women."
"There are numerous talented researchers within Kaiser Permanente and I am deeply honored to be receiving this award," Dr. Nguyen said. "The Regional Research Committee has always provided me great support with my own projects, and I have derived a lot of satisfaction from helping others interested in pursuing research.
"I encourage those interested in conducting clinical research to follow their passion," he added. "There are many resources available at Kaiser Permanente Southern California to support them."