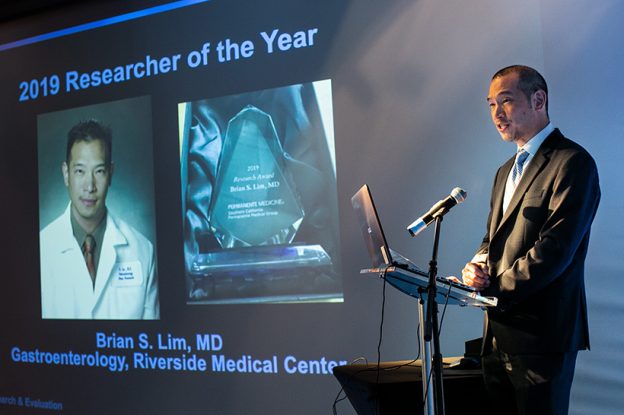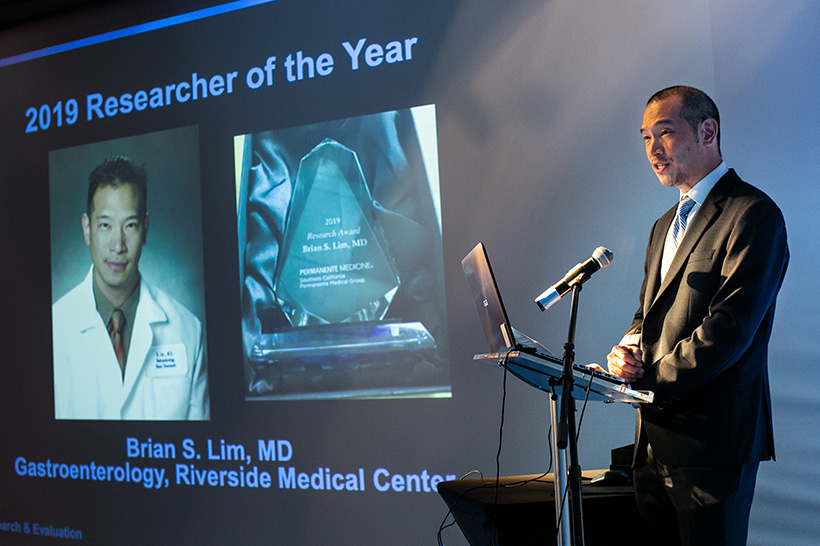 Dr. Brian Lim named SCPMG Physician Researcher of the Year
Physicians and researchers gathered for a celebratory dinner in Pasadena on Thursday, December 12, to recognize Southern California Permanente Medical Group physician researchers. Capping off the evening was the presentation of the 2019 Physician Researcher of the Year award, which went to Brian Lim, MD, MS, MAS (Clinical Research), a gastroenterologist from the Riverside Medical Center.
"Dr. Lim truly embodies the values of Permanente Medicine, not only in his dedication to evidence-based medicine but also in his emphasis on empathy and kindness," said Rachid Elkoustaf, MD, area research chair for Riverside Medical Center.
Dr. Lim has been active in research since his residency. As a fellow at UC Davis, he earned a masters' degree in clinical research and a K30 grant from the National Institutes of Health. He also received the American College of Gastroenterology Governor's Clinical Research Award for a study evaluating the effect of endoscopic retrograde cholangiopancreatography (ERCP) mechanical simulator on trainee performance.
His current research focuses on pancreaticobiliary diseases, such as pancreatic cysts, and advanced endoscopic procedures. Dr. Lim was part of the Regional Research Committee from 2012 through 2017. He received an RRC grant in 2018 for a study on surveillance of pancreatic cystic lesions.
In his acceptance speech, Dr. Lim expressed gratitude for the ability to do research, for the insights and collegiality of the members of the RRC and research support staff, and for the constant support of his wife Susan and his 2 children, who were with him at the event.
"I'd also like to thank our patients," he said. "They are the motivation for our research. Our ultimate goal is to improve their care."
SCPMG leaders laud physician researchers
Regional Medical Director of Quality & Clinical Analysis Nancy Gin, MD, told attendees at the dinner that working with our research program is one of her "greatest joys."
"You elevate our work by continuing to explore better ways to care for our patients, while setting the gold standard as a learning organization through creation of evidence-based care," Dr. Gin said.
Benjamin Broder, MD, PhD, regional assistant medical director of Quality & Clinical Analysis, noted that physicians and researchers at SCPMG have the ability to change care in our own system and around the world.
"Research offers an opportunity for clinicians to have diversity in their practice and to make an impact that goes beyond the 4 walls of your exam room," Dr. Broder said.
The unique relationship between our research department and our physicians strengthens the Southern California research program, said Senior Director of Research Steven Jacobsen, MD, PhD.
"The partnership with physicians is really what makes our research program special," he said.
Presentations highlight 2 new pilot programs
In 2018, the RRC introduced two new pilot programs to fund research: a Graduate Medical Education mentorship grant and a rapid cycle research grant.
"With the GME pilot program, recipients develop a project that has downstream applications and also benefits our GME training," said Bechien Wu, MD, chair of the RRC. "For our rapid cycle pilot program, we asked our regional chiefs to identify high-priority areas for the medical group where research can help answer questions."
Dr. John Sim, area research chair for the Los Angeles Medical Center, and second-year resident Thet Aung, MD, presented results from one of the GME grant-funded projects. The study focused on "Polycystic Kidney Disease Characteristics and Comparative Outcomes Within a Real-World Environment."
Dr. Amandeep Sahota, MD, presented a study on pediatric nonalcoholic fatty liver disease (NAFLD) as part of the rapid cycle program. The condition is rapidly becoming more common but there are many gaps our knowledge about it, making it a high priority for research, she noted.
Rewards of physician research take commitment
Physician research takes time and commitment, above and beyond what physicians already give to patient care.
"We have an amazing group of colleagues," Dr. Wu said. "This is not something they are paid to do, or even really expected to do. It comes from a deep desire inside, for the sake of advancing knowledge and for the benefit of our patients."
When asked what advice he would give to fellow physicians starting on the research journey, Dr. Lim offered: "Passion for research, humility in approach, endurance in the process, and gratitude toward collaborators. Celebrate your successes but do not lose hope when you fail, remembering that ultimately neither successes nor failures define who you are."
Keynote presenter Lester Thompson, MD, who was the 2018 Physician Researcher of the Year, vividly illustrated the complexity of research during his presentation. At one point, he scrolled through a massive dataset pulled together for his project on oropharyngeal squamous cell carcinoma . The spreadsheet spanned 119 columns of information on 390 patients.
The study took much effort and many hours to complete, but reward was great: It pulled together the largest known cohort from a single multispecialty group.
"That's the wonderful thing about working here," said Dr. Thompson. "It's all available if you just put in the time."