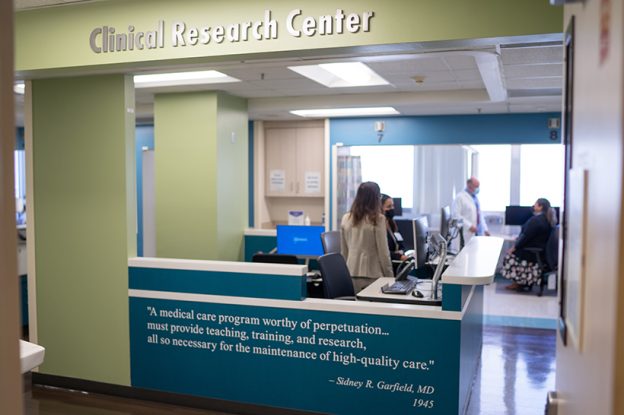 Clinical research center opens at Los Angeles Medical Center
A new dedicated clinical research space at the Kaiser Permanente Los Angeles Medical Center provides researchers and staff with expanded opportunities to bring groundbreaking clinical research to Kaiser Permanente Southern California members.
Located on the first floor of 1505 N. Edgemont on the medical center campus, the 1,400-square-foot Kaiser Permanente Clinical Research Center at Los Angeles Medical Center bolsters the Department of Research & Evaluation's clinical research programs, according to William Towner, MD, FACP, FIDSA, regional physician director for the Division of Clinical Trials.
"When we work out of an operating department of a medical center, we have to be mindful of the impact our studies will have on its standing clinical operations and patients," Dr. Towner said. "Having our own dedicated research space enables us to see more research subjects and participate in more studies."
The grand opening of the clinic was held on June 1. Once it is operational, the facility will be open Monday through Friday from 8:30 a.m. to 5 p.m.
Benefits of the new center
Dr. Towner said that the new center is a welcome addition to Research & Evaluation's existing facilities. "For as long as I've been a researcher at Kaiser Permanente Southern California, clinical research has been embedded in operating departments throughout our region's medical centers. As we've grown as a research program during the past few years, it's become increasingly difficult to house all of our staff and supplies in already crowded clinical departments.
"Having our own dedicated research space allows us to perform our cutting-edge research without impacting clinical departments," he added. "It also gives us 'brand recognition' in the eyes of patients. The fact that we will have an entire center devoted to research at Los Angeles Medical Center emphasizes Kaiser Permanente Southern California's commitment to research and puts us in the same league as many of our competitors in Southern California."
The center's infrastructure and capabilities
The new center has 2 exam rooms, 8 dedicated staff workstations, a patient waiting area, a nursing station with 5 "hotel" workstations, a specimen-processing area, a specimen refrigerator, 3 all-gender restrooms, a break room, a storage room, and special printers customized for research.
Research staff will be able to complete key tasks at the center including:
Obtaining consent and interviewing study participants 

Conducting focus group discussion

s

Collecting and processing biological samples

Gathering and uploading study data

Performing noninvasive clinical measurements

Administering study medications/intervention treatments

Conducting staff training and recertification

Processing and preparing study samples for shipping

Storing biological samples 

(on a short-term basis)
"We're looking forward to welcoming our first patients to the center in early June," said Research & Evaluation Clinical Trials Manager Randi Kendrick, MPH. "Eventually, we anticipate seeing about 32 patients per week."
The new clinic was made possible through the support of many people, especially the leadership teams at the Los Angeles Medical Center. The Shared Services' Operations teams at Research & Evaluation also played a critical role in its development.
"The new clinic is truly a milestone for research at Kaiser Permanente Southern California. It marks the second dedicated research clinic in the region and the first based at a medical center," said Ben Broder, MD, PhD, interim senior director of Research.  "We aim to bring more of these facilities to other medical centers in the future, making it even easier for our members to participate in research."
"The development of the new clinic came about after gathering input from many members, physician researchers, and scientists," said Regional Quality Administrator Kim Kaiser, EdD. "It will offer greater convenience to members who may not be able to travel to our Pasadena-based research clinic. It also provides the necessary equipment and space for our researchers to safely and efficiently conduct their studies at Los Angeles Medical Center."
"This center represents a huge first step on Research & Evaluation's pathway to becoming a world-renowned research center of excellence," Dr. Towner said. "I'm excited to see what the future holds for research at Kaiser Permanente Southern California with the launch of this new facility."
Email any questions about the new clinical research center to Clinical Trials at <Clinical.Trials@kp.org>.