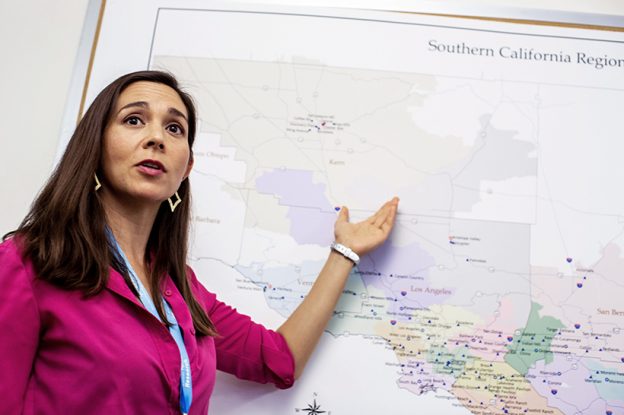 Better screening for latent tuberculosis
Investigators in Kaiser Permanente Southern California and Kaiser Permanente Northern California have kicked off a new research project to develop better screening for latent tuberculosis. The project, led by Sara Tartof, PhD, MPH, an infectious disease epidemiologist with the Southern California Department of Research & Evaluation, is funded by the National Institute of Allergy and Infectious Diseases.
More than one-quarter of the world's population is infected with Mycobacterium tuberculosis, but most of these people have what is called latent TB. People with latent TB infection have no symptoms but can develop active TB if they don't receive treatment.
"TB sounds like this dusty old disease, but it's not—it remains a major problem, even in the United States," said Dr. Tartof.  "We're in a unique position to study TB because of our member population."
California faces disproportionate disease burden
The burden of TB disease is disproportionately high in California. The California Department of Public Health estimates that more than 2 million Californians have latent TB infection.
One reason is that the incidence of infection varies by country of origin. For example, in 2017 the national incidence rate of TB among people born outside the United States was 15 times the rate of people born in this country. California is home to vastly more more people born in other countries than is any other state in the nation.
The TB Control Branch of the California Department of Public Health released a plan to eliminate TB in California by 2040. But screening guidelines for latent TB infection are based on information not commonly available to primary care physicians.
Connections from Epidemic Intelligence Service leads to collaboration
The idea for the research project was born after Dr. Tartof met up with Jacek Skarbinski, MD, infectious disease specialist and adjunct investigator with the Division of Research, Kaiser Permanente Northern California. Both are former officers with the Centers for Disease Control and Prevention's Epidemic Intelligence Service. They met through the EIS alumni network.
Before joining Kaiser Permanente Northern California in 2016, Dr. Skarbinski spent a decade working with the CDC, where he focused on prevention of various infectious diseases as a public health researcher. One of his main areas of focus was TB.
As Dr. Skarbinski and Dr. Tartof brainstormed ideas, they quickly realized they had a mutual interest in the gaps in identifying latent TB and saw an opportunity to collaborate.
"We have a real opportunity at Kaiser Permanente to lead by designing and implementing more efficient and effective screening and treatment programs for latent tuberculosis," said Dr. Skarbinski. "Our aim is to inform the current guidelines and re-design latent tuberculosis care to prevent morbidity and mortality from active tuberculosis."
Tapping into electronic heath records to build smarter screening
Researchers will tap into Kaiser Permanente's vast electronic health record to develop and validate a new strategy for TB screening and treatment. The study will be conducted in consultation with the California Department of Public Health.
"Given the size of our population and our technology, we are in a unique position to help to vastly improve screening rates, which are currently too low," said Dr. Tartof. "The current guidelines rely on data that aren't really collected. We want to build a smarter approach that relies on information that's readily available to physicians."
First, the researchers will measure gaps in how the current screening guidelines are implemented. Next, they aim to use data available in the electronic health record to develop more effective screening guidelines that can be implemented more easily. In the final phase, researchers will use web-based patient education tools to improve how the treatment of latent TB infection is started and completed.
Clinical collaborators, co-investigators, and project team members
Other co-investigators and project team members include:
Gunter Rieg, MD, infectious disease specialist and regional infectious control officer for the Southern California Permanente Medical Group
Katia Bruxvoort, PhD, MPH, infectious disease epidemiologist and post-doctoral research fellow with the Department of Research & Evaluation.
Lei Qian, PhD, collaborative biostatistician research scientist with the Department of Research & Evaluation
Heidi Fisher, PhD, collaborative biostatistician research scientist with the Department of Research & Evaluation
Sally Shaw, DrPH, MPH, lead senior research project manager with the Department of Research & Evaluation.
Rong Wei, MS, research analytical programmer manager with the Department of Research & Evaluation
Zhuoxin Li, MS, analytical programmer with the Department of Research & Evaluation
Corrine Munoz-Plaza, MPH, qualitative research lead and research project manager with the Department of Research & Evaluation