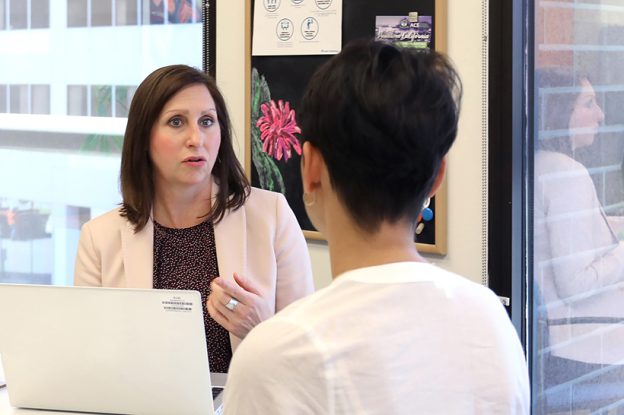 Applying epidemiology to change care delivery and improve health
Epidemiologists in the Department of Research & Evaluation apply rigorous research methods to address important health questions that have the potential to change clinical practice and health care delivery.
"Epidemiology is the study of patterns of diseases and other health conditions in populations," said Kristi Reynolds, PhD, MPH, director of the Division of Epidemiologic Research. "We want to learn about factors that are associated with disease and health conditions that have an impact on your health and we also want to find factors that can promote health and help prevent you from getting disease."
Working with an integrated health care system, epidemiologists in Research & Evaluation are able to partner with clinicians and operational leadership at Kaiser Permanente to address important questions and knowledge gaps. This can lead to changes in health care practice and ultimately improve the health of our members as well as the broader community.
One example is a study led by Gloria Chi, PhD, an officer with the Centers for Disease Control's Epidemic Intelligence Service who was based in Research & Evaluation. Dr. Chi and her study team looked at blood lead level testing among children. They found there were some hot spots within Los Angeles and San Diego counties.
"Our operational leadership and clinicians within Kaiser Permanente took the findings from Dr. Chi's study, and they were able to make it easier for parents with children who are at the greatest risk for having high blood lead levels to bring in their children to get screened," said Dr. Reynolds.

Expertise across the care continuum and in many health conditions
The division's research portfolio spans the care continuum, from etiology and prevention to survivorship and quality of life. Currently, it is home to about a dozen research scientists, as well as 2 post-doctoral fellows and an EIS officer. They have expertise in many health conditions, including cancer, chronic conditions, infectious diseases, maternal child health, medication adherence, molecular epidemiology, pharmacoepidemiology, and vaccine safety and effectiveness,
Dr. Reynolds is a cardiovascular epidemiologist. She is motivated to study heart disease because heart diseases are a leading cause of death in the United States.*
"Many of my studies have focused on high blood pressure, also known as hypertension. Hypertension is one of the most important risk factors for heart disease," she said. "High blood pressure is called the silent killer because it oftentimes has no warning signs or symptoms. Therefore, it's really important for us to be able to identify, detect, and treat high blood pressure so that we can help prevent heart disease, stroke, and kidney damage."
*Centers for Disease Control and Prevention. Heart Disease Facts: 2010.