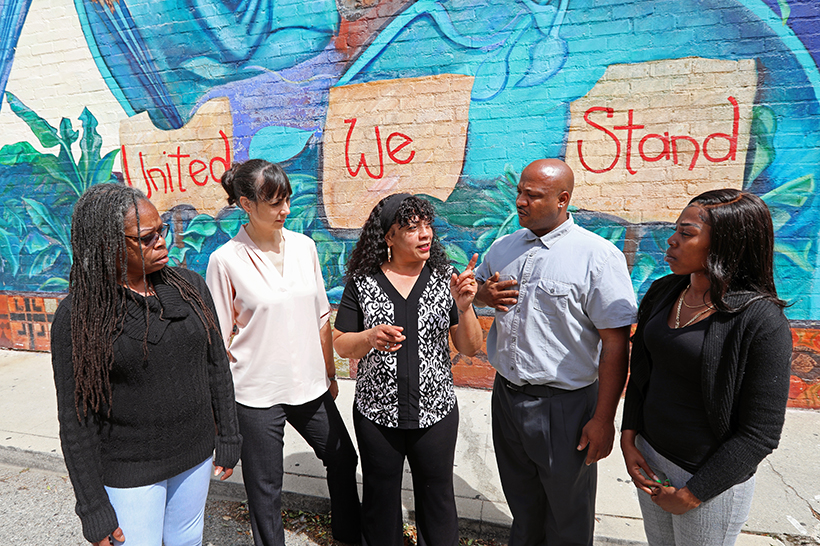 Addressing the social needs of patients
There is a growing awareness in the health care community that treating a patient's medical symptoms may not be enough. Their social situation may be the true impediment to a cure.
But how does a doctor house the homeless veteran, feed the hungry child, or end loneliness for the aging widower?
Right now, investigators at Kaiser Permanente Southern California are building the capacity to address these needs through research and partnerships.
"We can help many people decrease their need for health care if we address their social needs," said Adam Sharp, MD, a researcher with the Department of Research & Evaluation.
Claudia Nau, PhD, another researcher with the department, is focused on how predictive modeling could help Kaiser Permanente and other health care organizations reach the patients who need help the most. She also leads a project to improve care for elderly patients with depression by partnering researchers with depression care managers and a community partner, Healthy African American Families.
"A lot of elderly patients struggle with loneliness and depression," Dr. Nau said "We're finding that they also struggle with a lot of other things that hinder them from going out or living healthy."
Dr. Sharp, who is also an emergency physician at the Kaiser Permanente Los Angeles Medical Center, began looking at the issue of social needs in 2015.
First, he collaborated on a pilot project with a nonprofit organization to understand who would benefit from social needs assessments and assistance, and how that would affect their utilization of health care services.
"It didn't affect health care utilization among patients overall. But in subgroups of patients that were disadvantaged, there was significant benefit," Dr. Sharp said.
Next, he assessed the level of support to address social needs among Permanente physicians and nurses, pharmacists, and administrators throughout Kaiser Permanente Southern California. He found that the overwhelming majority of health care professionals support social needs screening but only a minority were confident in their ability to address social needs.
The findings were key to informing Thrive Local, an initiative Kaiser Permanente launched this year. The social health network aims to connect health care and social services providers to address pressing social needs including housing, food, safety, and utilities for Kaiser Permanente members across the United States.
It is expected to be available to all Kaiser Permanente members by 2022.
_________
To read the full article, please check out the Department of Research & Evaluation's 2018 Annual Report.