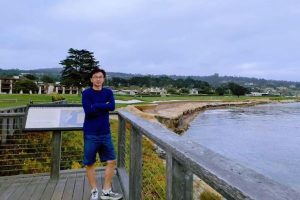 5 questions for … Dr. Hung Fu Tseng
Hung Fu Tseng, PhD, MPH, is a senior scientist in the Kaiser Permanente Southern California Department of Research & Evaluation and a professor at the Kaiser Permanente Bernard J. Tyson School of Medicine. His research focuses on generating real-world evidence to determine the safety and effectiveness of vaccines. His research has had a significant impact on national vaccination policy and the health of the general population.
What inspired you to pursue research?
Vaccines have reduced or eliminated many diseases that killed or severely disabled people just a few decades ago. If we continue to vaccinate now and vaccinate completely, parents may be able to trust that in the future, their children will no longer be harmed by some of today's diseases. Public trust in vaccines and vaccination is as essential as the effectiveness of the vaccines themselves. Therefore, generating reliable scientific results to strengthen vaccine confidence and prevent outbreaks of vaccine-preventable diseases is what keeps me pursuing research.
You've done important work on vaccines during the pandemic. Within that body of work, which findings have been the most important? 
It's not just findings that have been important. Every step—from protocol development, project management, vaccine delivery and distribution, each timely analysis that can inform vaccination strategy—has been crucial during the pandemic. The findings of waning protection or omicron's immunity-escape ability both inform the decision of the need for a booster or an updated vaccine.
What research are you conducting now that you are most excited about?
A booster dose of the omicron BA.4/BA.5-adapted bivalent COVID-19 vaccine was authorized for emergency use by the U.S. Food and Drug Administration for ages 5 years and older in fall 2022. We are excited to study whether bivalent booster doses provided additional protection against symptomatic SARS-CoV-2 infection and hospitalization during a period when omicron BA.5 and subsequent variants predominate. The analysis is ongoing, and we are updating the results on a regular basis.
What is next on your research horizon?
I am interested in studying the safety and effectiveness of some newly developed vaccines, like RSV vaccines used in the elderly population or influenza vaccines developed with mRNA platform. Safety and effectiveness of adjuvanted shingles vaccine used in patients with autoimmune conditions are also important topics in our program.
What do you like to do in your spare time while not at work?
I cook sometimes and watch some K-drama when the story is interesting. I like to hike here in Southern California. And I'm constantly reflecting and finding peace in mind.
Image: Dr. Tseng doing sightseeing at Pebble Beach golf course.