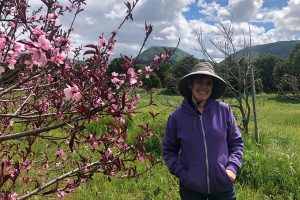 5 questions for … Dr. Deborah Cohen
Deborah A. Cohen, MD, MPH, an international expert on the health benefit of parks, is the newest scientist at the Department of Research & Evaluation. She began working in the department's Division of Behavioral Research in January.
She previously worked as a senior physician policy researcher at the RAND Corporation. She has served on panels for the National Institutes of Health, the Centers for Disease Control and Prevention, and the Robert Wood Johnson Foundation. She is author of 2 books.
Dr. Cohen studies how environmental factors influence the health of communities and affect health disparities. Her work has focused on improving the food environment, which is currently designed to promote the overconsumption of nutrient-poor foods. She has also investigated how the management and design of neighborhood parks can support more people to be physically active.
 Why did you choose to come to the Department of Research & Evaluation?
I am totally delighted by the opportunity to work at Kaiser Permanente Research & Evaluation. It has allowed me to pursue projects that I have been dreaming about for many years, to work with a new set of colleagues, and to return to the organization where I started my career in medicine.  I did my internship and residency in family medicine at Kaiser Permanente Los Angeles Medical Center and then spent 1.5 years working in urgent care there while I studied for my Master of Public Health at UCLA. I have always appreciated Kaiser Permanente's emphasis on primary prevention and am glad to have the chance once again to contribute.
How has the COVID-19 pandemic affected your work?
The pandemic has put one NIH-funded project on hold, a study to investigate the relationship between playground design and physical activity among all age groups. We had planned to observe 60 playgrounds in 10 U.S. cities and document how people of all ages use the equipment and how much moderate-to-vigorous physical activity they engage in while there. We intend to compare innovatively designed playgrounds—where nature is incorporated into the play area or includes unusual climbing structures, for example—to the more traditional playgrounds with post-and-platform designs. Now that playgrounds are closed, we've postponed the study until next year. Another NIH-funded project has shifted to remote recruitment, instead of an in-person approach at the clinic, since normal clinic hours have been eliminated.  It will evaluate the impact of Park Prescriptions, a recommendation for patients to visit parks at a specific frequency and duration.
 What studies are you currently working on?
Besides the playground and park prescription studies, I am working on 2 projects related to diet and nutrition. The first is a study to develop and test standardized portions for use in restaurants. Currently, when most people dine out, they are served more food than they can burn, which increases their risk of obesity and chronic diseases. The idea of standard portions is to allow people to be served an appropriate amount of food. We expect to test this in 3 restaurants by offering an alternative menu with standard portions.
The other project is to develop food prescriptions that offer a weekly meal plan and an affordable bag of groceries that will meet the USDA dietary guidelines. Now, more than 90% of Americans don't meet them. The goal is to improve diet quality, reduce the burden of planning and shopping, and reduce food costs for Kaiser Permanente members.
You are the author of 2 books. Can you give us a quick takeaway from each?
The first book, Prescription for a Healthy Nation, A New Approach to Improving Our Lives by Fixing Our Everyday World, written with Dr. Tom Farley, describes the essence of public health, which is based on the premise that the conditions in which we live determine our health. We specifically describe 4 major influencers of health: the physical environment, the social environment, the media, and the accessibility of consumer products.
The second book, A Big Fat Crisis, the Hidden Forces Behind the Obesity Epidemic and How We Can End It, focuses on why the food environment must be changed to stop obesity. It describes why people cannot ignore the food environment nadhow it exploits human nature and sets people up to eat too much, and it includes suggestions for solutions that will address the underlying causes of obesity.  A TEDx talk I gave can be seen at: https://www.youtube.com/watch?v=NBXxJrMxGZc
When you are not at work, how do you spend your free time?
I have small organic orchard in Ventura County and I am raising more than 600 trees. I spend most weekends at the farm irrigating, riding a 25-horsepower tractor to mow the weeds, and trapping gophers. I mostly have Valencia oranges, but I've also planted a wide variety of fruit trees: figs, mulberries, persimmons, plums, and pluots, apples, pears, among others. Spring is my favorite season. I love the smell of the orange blossoms and seeing the fruit set and mature on the trees. Right now, the white mulberries are in season and there's more than we can pick. I also like to cook and spend time with my family and friends.