Feature story:
Scientists research masking adherence with communities across the country
When the COVID-19 pandemic closed playgrounds, her research into playground use and physical activity could also have come to a halt. Instead, with the blessing of the National Institutes of Health, which was funding the work, Deborah Cohen, MD, MPH, pivoted to conducting research relevant to lighting the way through the pandemic: Who was adhering to the outdoor masking recommendations, and who wasn't?
"Rather than twiddle our thumbs, we decided to use our skills at systematic observations to impact public health policy," said Dr. Cohen, a research scientist with the Department of Research & Evaluation. "At that point, masks were our best hope of reducing the spread of COVID-19. We wanted to collect information about usage so we could point out where public health efforts were most needed to increase adherence."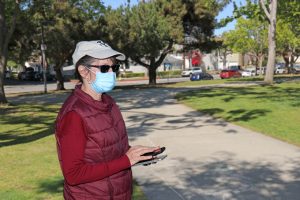 Her team included other researchers at Kaiser Permanente Southern California, researchers from other institutions, university professors, and public health officials. Their first full-scale effort occurred in Philadelphia.
People involved in the Philadelphia study observed more than 4,600 people in 30 outdoor public spaces throughout that city, including commercial streets, neighborhood parks, and playgrounds during 3 weeks in August 2020. The Philadelphia Public Health Department announced results that month.
The research was part of an ongoing series of studies called SOMAD (Systematic Observation of Mask Adherence and Distancing). From then through June 2021, 228 researchers across the nation, including in California, recorded their observations of more than 104,000 people in public spaces.
Some of the initial findings, which includes those gathered in California and Philadelphia, showed:
Women were wearing masks more than men.
Seniors were the most adherent age group, while teens were least likely to be wearing masks.
People of Asian descent were more likely to wear masks than other races or ethnicities.
People were more likely to wear masks in commercial areas than in parks.
About 20% of people who had masks on were not wearing them properly, for instance had their nose uncovered.
After the press release went out in Philadelphia, the use of masks increased slightly. It increased much more after President Donald Trump contracted COVID-19.
The disparities in adherence suggest that the information about the risk of exposure is not uniformly appreciated by all groups, Dr. Cohen said. Given that males have more severe consequences from COVID-19 infection than females, a targeted information campaign may be required to motivate greater compliance, she said.
After the study was done in Philadelphia, the public health department issued more detailed guidance for mask use.
The first research paper resulting from the work, titled Systematic Observation of Mask Adherence and Distancing (SOMAD): Findings from Philadelphia, was published in the journal Preventive Medicine Reports. "Until vaccination has become near universal," Dr. Cohen said, "it will still be important for people to wear masks in public settings where they might interact with others to reduce the spread of this deadly disease."