Feature story:
Clinical trials are driving a revolution in stroke care
Stroke is the fifth leading cause of death in the United States, and in the past 5 years, stroke treatment has undergone a renaissance. Clinical trials at Kaiser Permanente Southern California and elsewhere have shown that stroke patients benefit not only from medication, but also from interventional clot removal. The procedure physically removes stroke-causing clots from the brain using small tubes and retrievable stents, and has been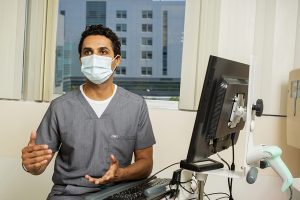 shown to reduce death and disability.
The Kaiser Permanente Southern California stroke research program is a collaboration by physician researchers at medical centers around the region led by Navdeep Sangha, MD, a vascular neurologist. Dr. Sangha sees patients physically at the Kaiser Permanente Los Angeles Medical Center and virtually through Telestroke. It is a teleconferencing program throughout the region's 15 medical center emergency departments. With Telestroke, patients can be treated by the stroke specialist and then screened and enrolled into a clinical trial if appropriate, through telemedicine.
"Our stroke program shows how Kaiser Permanente is invested in growing our clinical care through clinical trials. It's really putting us on the map—not just as a place where we provide excellent clinical care, but also as a place where we enroll patients in clinical trials to discover that next level of care," Dr. Sangha said.
Quick action is key
Acting quickly can help stroke patients get the treatments they need to survive and reduce damage to the brain, according to the Centers for Disease Control and Prevention. Two million brain cells die every minute until blood flow is restored, according to the American Heart Association.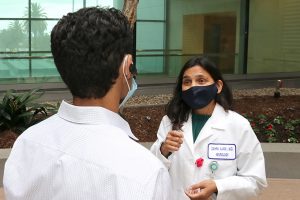 The more quickly symptomatic patients are treated with medication or interventional clot retrieval, the more likely it is that they'll have a good functional outcome. Every 30-minute delay in treatment reduces the chance of good outcome by 10%. New therapies that have been and continue to be tested at Kaiser Permanente Southern California medical centers could expand the potential for treatment, and potentially benefit more patients who have strokes.
"Our goal is to provide the highest-quality, evidence-based care for patients and families dealing with cerebrovascular diseases," said Zahra Ajani, MD, medical director of the Los Angeles Medical Center Comprehensive Stroke Center. "We strive to innovate new methods of diagnosis and treatment through research and clinical trials," she added.
KPSC medical centers leading enrollment in stroke clinical trials
Kaiser Permanente's research in Southern California allows patients across the region to have access to the newest potential stroke therapies. Kaiser Permanente Southern California is one of the top enrollers in the TIMELESS trial, a national trial designed to evaluate the use of a clot-busting medication. This success is due to the power of identifying, enrolling, and treating eligible patients at 3 different medical centers (Los Angeles, Fontana, and Anaheim).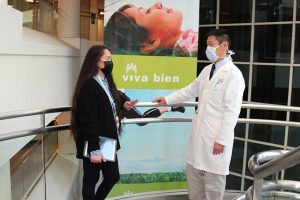 In 2020, 21 investigators at the Los Angeles, San Bernardino County (Fontana/Ontario), and Anaheim medical centers oversaw 16 clinical trials. They were sponsored by the National Institutes of Health through the StrokeNET research network or by industry. Two additional medical centers, South Bay and Baldwin Park, will begin enrollment in stroke clinical trials in 2021.
"Stroke patients are very sick. With Telestroke and clinical trials, we can offer them the best medical care at whichever Kaiser Permanente medical center they go to. That's not something that most other health care systems can offer. This makes us ideally positioned to conduct stroke trials that can potentially change people's lives," said Conrad Liang, MD, PhD.
Dr. Liang, a vascular and interventional neurologist at the Kaiser Permanente Fontana Medical Center, said, "In the future we expect to be initiating national stroke clinical trials, not just participating in them."
Integrating clinical care and clinical trials
The stroke team is a great example of clinical trials being integrated into clinical care, said William Towner, MD, FACP, FIDSA, the regional physician director for the Division of Clinical Trials Research. Dr. Towner also leads the Clinician Investigator Program for the Southern California Permanente Medical Group.
"The clinical trials team is always looking for ways to integrate research into clinical care and our stroke team has achieved that," Dr. Towner said. "They provide new treatment opportunities for patients, while also allowing those patients to be part of determining the best stroke treatments for others."