Simple text-based platform proves powerful for monitoring symptoms after vaccination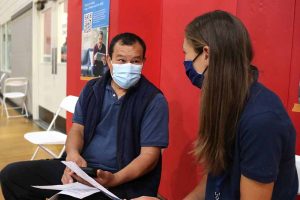 When COVID-19 vaccines rolled out in early 2021, researchers were interested in collecting data on common side effects to help inform policy makers, health systems, researchers, and people who might have concerns.
Kaiser Permanente Southern California researchers worked with the Centers for Disease Control and Prevention and a coalition of partners within Kaiser Permanente to create an innovative, easy-to-use digital survey tool that would allow patients to send their answers to questions online or via text message. The idea was that this potentially groundbreaking survey tool would record how people felt in the days after their vaccinations and be able to link responses to their health records.
After participating in a competitive process, the Kaiser Permanente Southern California team led by Sara Tartof, PhD, MPH, and Debbie Malden, DPhil, MSc, was awarded a grant from the CDC to develop a digital survey platform that was later used to gather data from patients after they were vaccinated.
Despite many technological hurdles, the researchers sprinted from design to deployment in only a few months. They credit support from a wide range of stakeholders, including contributions by Kaiser Permanente's national information technology, marketing, and legal teams, for the speed from concept to completion. However, it was the support and participation of Kaiser Permanente members that made the novel system a true success.
Named the Kaiser Permanente COVID-19 Vaccine Side Effect Monitoring System, the digital tool included participants across all Kaiser Permanente sites in Southern California. As of May 2022, more than 100,000 people throughout the region had joined. They used a simple text- and web-based digital platform to report any symptoms they experienced after getting their vaccination.
The tool has several important features that the CDC's digital vaccine side effects monitoring tool, called v-safe, did not. Most important, the KP Side Effect Monitor is linked to participants' medical records. So, any exams or treatment following reported symptoms can be tracked and evaluated.
"We had a much higher rate of participation than v-safe, something I attribute to the trust that our
members have in us and our integrated health care system," Dr. Tartof said.
Also, because participants were recruited from a known population of vaccinated patients, the study team can determine who is participating and who is not. "We can look at participation levels against a true denominator," said Dr. Malden.
Unlike v-safe, the new Kaiser Permanente tool has enhanced accessibility since it does not require a smartphone or internet access to take part; even a flip phone would work.
"As the first of its type to integrate research and IT operations at this scale, this project made huge strides toward providing information on vaccine safety," Dr. Tartof said.
In the future, researchers hope to expand the system to other Kaiser Permanente facilities within the Vaccine Safety Datalink network.
"We worked through many technological challenges to create this new framework to collect patient- reported outcomes," Dr. Tartof said. "This system — a first of its kind for Kaiser Permanente and likely other health care institutions — has important implications for potential use in the future with new vaccines as well as new medications and treatments."