Feature story:
Clinical trials bring hope during global pandemic
On a Saturday morning in mid-March 2020, William Towner, MD, FACP, FIDSA, and Hai Linh Kerrigan, PharmD, the leaders of Kaiser Permanente Southern California's clinical trials program in the Department of Research & Evaluation, huddled on a conference call discussing the feasibility of getting a trial launched quickly for an investigational drug called remdesivir, then considered a promising candidate for treatment of COVID-19.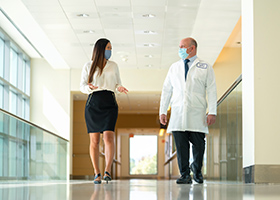 "We knew this would be a fast-moving disease with no FDA-approved treatment options available, which presented the perfect opportunity for clinical trials to help," said Dr. Towner, who is regional physician director of clinical trials. "We needed a treatment in late-stage development so we could get it to as many patients as we could. Remdesivir met all of our criteria."
Time was of the essence. The pandemic was closing in. Within days, officials would declare it safer for Californians to stay home, as cases of COVID-19 began to climb in the state. No treatments were yet approved. The urgency was clear.
"Right after that conversation, we got on the phone to see if we could get a contract in place over the weekend," said Dr. Kerrigan, division research administrator for clinical trials.
Launching a multisite trial in 8 days
Eight days after that initial phone call, the trial opened at 13 Kaiser Permanente medical centers in Southern California. Everything happened quickly, but launching a large-scale trial at the start of a global pandemic was far from simple. It took a Herculean effort by the clinical trials team and an army of physicians, pharmacists, nurses, and research staff across the region.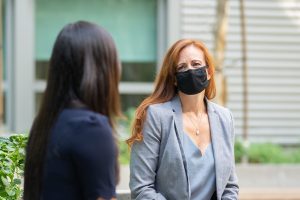 More than 60 infectious disease specialists signed on as investigators. A group of ambulatory care pharmacists provided clinical monitoring for study participants, ensuring required labs were performed and checking for safety issues. And research staff from every division of the research department jumped in to help.
"There were so many things we did that we've never done before, from launching a central command center, to enrolling people 7 days a week at medical centers, to consenting patients electronically using specially configured iPads," said Dr. Kerrigan.
A month and a half after the trial opened, the U.S. Food and Drug Administration (FDA) issued an emergency use authorization for remdesivir. By that time, KPSC had become one of the largest enrolling sites in the world, with 588 participants receiving remdesivir as a part of the clinical trial.
Focus on novel therapies
While having an approved treatment gave reason to celebrate, there was no time to rest. Trials for other potential treatments had kicked into high gear. Choosing which ones to participate in became the next challenge.
"We were getting about 4 or 5 different opportunities sent to us every week, but it was apparent we couldn't possibly do all of the studies," said Dr. Towner. "When there is a limited ability to do every study, we had to choose carefully." In consultation with physicians from multiple specialties as well as regional leaders, the clinical trials team weighed various options. They homed in on novel therapies. Some of these included monoclonal antibodies, nitric oxide, and an oral treatment for COVID-19.
Monoclonal antibodies
The need to develop new treatments rapidly as the pandemic spread quickly around the globe prompted members of the medical research community to explore clinical trials methods that could evolve as new treatments emerged.
In April 2020, the National Institutes of Health (NIH) announced a new public-private partnership, called ACTIV, which aimed to speed development of promising treatments and vaccines. One of the studies opened under this partnership was the ACTIV-2 Outpatient Monoclonal Antibodies and Other Therapies trial, which employed an adaptive trial platform when it launched a few months later in August.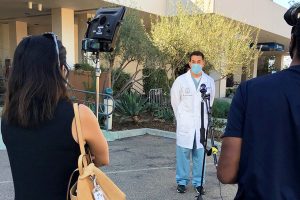 "Adaptive platforms are used when new drugs are being developed quickly, meaning there is a chance a better treatment will emerge during the life of the trial," said Adam Schwartz, MD, MS, who served as principal investigator for the ACTIV-2 trial at the Kaiser Permanente San Diego and Zion medical centers. "It allows the trial to stay within the same basic protocol, amending the appendix to add or subtract new agents as the trial goes along."
The ACTIV-2 trial was designed to test investigational agents, including monoclonal antibodies, in adults with mild-to-moderate COVID-19 symptoms. Monoclonal antibodies mimic the body's immune system's response but are produced in a lab.
Dr. Schwartz, who is chief of emergency medicine in San Diego, had previously served as principal investigator for another COVID-19 monoclonal antibody trial, the BLAZE-1 trial for bamlanivimab. During that trial, the study team screened almost 200 patients and enrolled 18 participants.
That experience helped lay the groundwork for the team to participate in the ACTIV-2 trial. Both the BLAZE-1 and ACTIV-2 trials required complex logistics, including enrolling and consenting patients in the emergency department, managing rapid lab tests, administering intravenous drugs, and coordinating home follow-up.
"It took a lot of resources, especially nursing time, which was especially difficult during the pandemic in our very busy emergency departments," said Dr. Schwartz. "We couldn't have done it without a lot of support, both from the Department of Research & Evaluation crew and our local leadership." The ACTIV-2 trial remained open at both San Diego and Zion into 2021.
Inhaled nitric oxide
Early in the pandemic, Viji Sankar, MD, chief of the pulmonary and critical care units at the Kaiser Permanente San Diego and Zion medical centers, became interested in the potential benefits of inhaled nitric oxide for patients with COVID-19. Though often used in neonatal populations and ICU to support oxygen needs in advanced respiratory failure, there had been interest in how inhaled nitric oxide could be used for other settings of respiratory failure.
"I heard about a patient with severe pulmonary hypertension who was on an inhaled nitric oxide platform," she said. "It was a portable device, which made it possible for her to be supported at home." In late May, Dr. Sankar reached out to the regional clinical trials team to explore the possibility of using the inhaled nitric oxide system under expanded access—a treatment option that allows use of a treatment not yet authorized by the FDA. The FDA had recently cleared the initiation of a phase 3 multicenter randomized, double-blinded, placebo-controlled clinical trial with inhaled nitric oxide in COVID patients with early respiratory failure.Dr. Sankar worked with the clinical trials team as well as numerous colleagues at the San Diego and Zion medical centers to open the PULSE-CVD19-001 trial. They enrolled their first patient in September.
The trial remained open through mid-November when the study hit its target enrollment of 100 participants. Fifteen of the 17 screened participants were enrolled at San Diego and Zion. Preliminary results did not show any benefit to patients with early-stage respiratory failure.
"Being part of a randomized controlled trial gave us much-needed information that, despite our optimism, this therapy did not actually work," said Dr. Sankar. "This is the way science advances, even in the midst of a pandemic." Participating in the trial brought other benefits. During an exceptionally difficult time, it strengthened community among the physicians and nurses, giving a sense that everyone was doing all they could to help the patients on their floors. The altruism of the patient participants was also inspiring.
"It often touched me when patients would say to me, 'I know this may not work for me, but I hope it works for someone else,'" Dr. Sankar said. "I am deeply thankful to all of those patients who understood they might not benefit but did this to advance medicine for all future patients."
Oral nucleoside (molnupiravir)
In November, the Kaiser Permanente South Bay Medical Center began enrolling participants in a placebo-controlled trial an oral nucleoside analogue, molnupiravir. First developed in the early 2000s, molnupiravir is a small molecule drug that has proven to work against respiratory diseases from multiple RNA virus families in vitro, including SARS-CoV-2.
Gunter Rieg, MD, an infectious disease specialist, was drawn to the study because it offered one of the first promising oral treatments for COVID-19. Remdesivir and other early authorized treatments had to be delivered intravenously. "Oral antiviral agents active against SARS-CoV-2 would allow us to treat patients with COVID-19 infection earlier in the disease course when viral replication is the predominant disease mechanism and patients are not sick enough to be hospitalized," Dr. Rieg said.
Early treatment with an antiviral agent may avoid the need for hospitalization, hinder disease pro-gression, and also prevent transmission to others, he noted. While the trial was open to patients while in the hospital, they could be discharged after day 2 of the 5-day course of treatment. The trial remained open into 2021.
Vaccines bring hope for end to pandemic
In August, Kaiser Permanente joined the phase 3 clinical trial for a new investigational vaccine developed by Pfizer Inc. and BioNTech. A pop-up clinic at the Kaiser Permanente Los Angeles Medical Center became the primary site for Kaiser Permanente Southern California.
"By that time, more than 16 million people had been infected with COVID-19 around the globe. The pandemic had affected the world profoundly both economically and socially," said Dr. Towner, who served as principal investigator for the vaccine trial in KPSC. "We knew it was imperative that we find a safe and effective vaccine as quickly as possible."
Given Kaiser Permanente's diverse membership, especially in Southern California, the study team quickly turned their focus to recruitment strategies that would support rapid enrollment and foster equitable inclusion of communities of color. To do that, the team worked with staff from R&E's IT and Communication groups to develop a landing page to host study information and a screening tool along with other recruitment tools. The Regional Research Statistical Services team then pulled information to identify potential participants, tapping into demographic and other information contained in Kaiser Permanente HealthConnect®.
The study team then used the list of identified participants to send more than 70,000 recruitment emails to potential participants. The effort to build an equitable, high-speed recruitment approach was a success. More than 50% of participants came from communities of color. Due to overwhelming interest, trial enrollment filled quickly. The last patient enrolled at the Los Angeles Medical Center in late September.
By mid-November, preliminary results showed efficacy results of 95%. A month later, the FDA granted emergency use authorization. On December 14, the first COVID-19 vaccine administered outside of clinical trials in California was administered at the Los Angeles Medical Center.
KPSC's successful participation in the Pfizer-BioNTech trial paved the way for participation in additional COVID-19 vaccine studies in 2021, including a pediatric trial and a study assessing a vaccine booster dose in adults.
"Much as with the AIDS epidemic, the COVID-19 pandemic thrust a light on the importance of rapidly done, high-quality research to help bring critically needed therapies to the public," said Dr. Towner. "It has been incredibly inspiring to see how many people have come together in this historic effort to bring the COVID-19 pandemic to an end."